Upset about a recent police-involved fatal shooting of a family's pit bull, a pair of activists video recorded themselves walking into a police station in Jackson, Michigan, openly carrying an AR-15 semiautomatic rifle to file a Freedom of Information Act request.
Reactions to the video, uploaded on Dec. 10, so far have run the gamut, with some supporting the activist and others criticizing him due to the perceived spike in threats to police officers recently.
The men behind the JacksonCopBlock and TacticalPatriot YouTube channels are apparently seen entering the Jackson Police Department with intentions of interacting with law enforcement. One of the men is seen openly carrying an AR-15 rifle and wearing an apparent bulletproof vest with "Jackson Cop Block" printed on the back.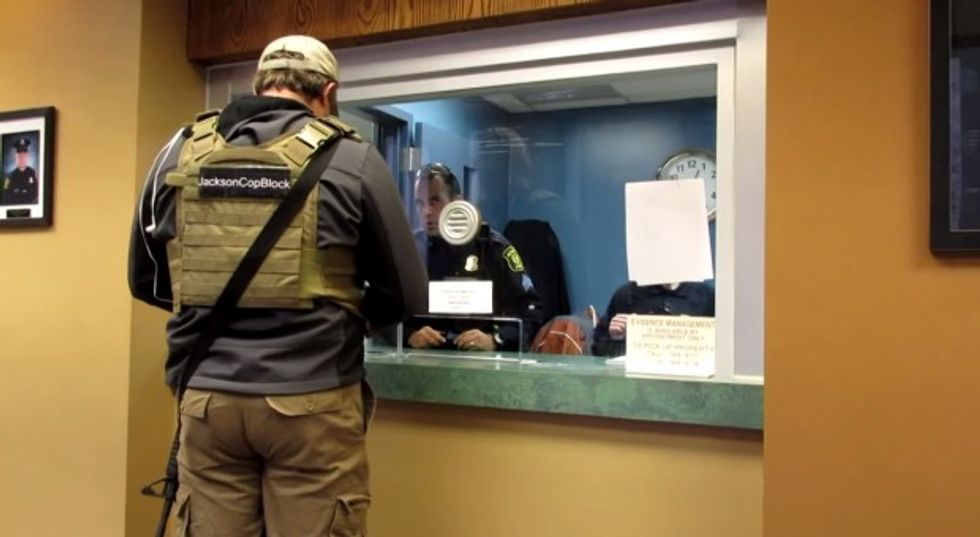 (YouTube screengrab)
"I'd like to file a FOIA request," one of the men says in the video.
A woman at the front desk is seen asking the men where they came from, suggesting police had received calls about individuals carrying rifles. She appeared to want to determine if the calls were about them so officers weren't dispatched for no reason.
The man behind the camera refused to reveal his previous location, telling her, "We came from our place of origin to here."
Police officials informed the men that the FOIA office would not open until 12:30 in the afternoon. So, the activists left and planned to return then. Watch part one of the video:
After looking for some "witnesses" to the police-involved shooting of the pit bull, the men returned to the police station to file a FOIA request.
An officer is seen on video asking one of the men, "I don't know who you are — do you have ID on you, sir?"
"I don't answer questions," he is heard responding.
After an officer snaps a photo of them the activists then travel upstairs to the FOIA office and file their request without incident. Officers did not attempt to detain or disarm either of the men, according to what's seen in the video footage.
Due to the content of the video, one would assume the FOIA request had to do with the shooting of the dog. Watch part two of the video below:
You can read some of the reactions to the video in the video's comments section here.
The Nov. 28 police-involved shooting of the pit bull by Jackson police is currently under investigation, MLive.com reports.
Jackson Police Lt. Christopher Simpson said two officers "found themselves inside an apartment" during their search for a suspect and a dog "aggressively" approached them, causing them to open fire and kill the animal. The officers will remain on active duty during the investigation, he added.
Note: We've updated the city to reflect that the incident occurred in Jackson, Michigan.