A Mississippi mother says her 8-year-old daughter was told to remove a "Stop Common Core" button from her book bag and barred from handing out similar bookmarks and stickers.
"She was giving out stickers and more kids wanted them and were asking her about it," said Kelly Watson, whose third-grade daughter, Faith, attends Martin Bluff Elementary School in Gautier, Mississippi. "The other kids were asking her questions about Common Core, and they were questions she could answer."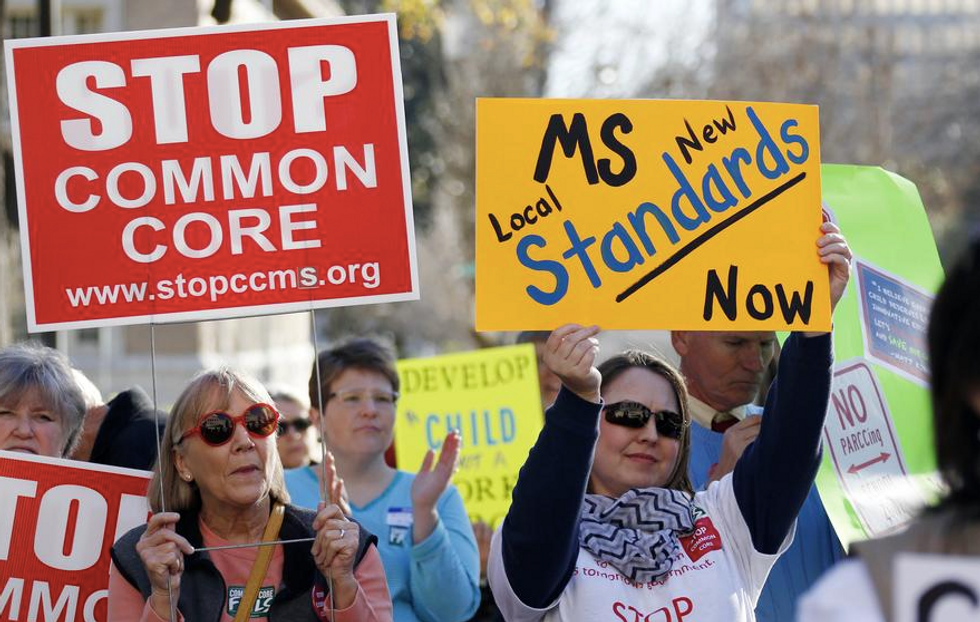 Common Core opponents wave signs and cheer at a rally opposing Mississippi's continued use of the Common Core academic standards on the steps of the Capitol in Jackson, Miss., Jan. 6, 2015. Both Gov. Phil Bryant and Lt. Gov. Tate Reeves have vowed that the state will quit using the standards. (AP Photo/Rogelio V. Solis)
Watson told TheBlaze she got a call from Martin Bluff Elementary principal Victoria Hoover after Faith was passing out stickers, bookmarks and buttons earlier this month.
"The principal called me to say that Faith is not in trouble, she's not sick," Watson said. "She just asked if I could come in. She said you can't hand out anything without permission from the superintendent."
Watson continued, "The superintendent said it was pins on the back of buttons [that] were dangerous. That doesn't explain why you can't hand out bookmarkers and stickers. I'm still waiting on that."
On Monday, Watson said Faith was told she had to remove the "Stop Common Core" pin from her bag and leave it at home.
The school referred questions to the Pascagoula School District, which did not return multiple messages from TheBlaze. The superintendent is Wayne Rodolfich, who last week issued a public letter opposing an effort in the state legislature to repeal Common Core in Mississippi.
Watson said she brought back the buttons and stickers from a rally she attended in the state capital of Jackson, and Faith asked if she could take them to school and give to her friends. Watson said she didn't push her daughter into passing anything out.
"She was an A student. She knows all about Common Core. She hates it," Watson said.
The Martin Bluff Elementary student handbook doesn't mention any proscriptions for pins on buttons; it only forbids ones with obscene content.
"Students are prohibited from wearing additional 'patches', pins, earrings, jewelry, or any other item that may be considered lewd, profane, obscene, suggestive, or vulgar which may harass, threaten, intimidate, or demean other groups, or which displays illegal merchandise or contraband or any item which may distract from the educational process," the handbook states.
The handbook only refers to sharp objects in regard to "any student who uses or threatens to use any hard or sharp object, regardless of its original purpose, for a weapon."
Watson recalled that the principal asked an unusual question about the state capital rally, which was in support of the state legislature bill to repeal Common Core
"She asked about the Jackson rally where we passed the stickers out, and said, 'It didn't get violent or anything did it?' I said no. I don't know why she would think that," Watson said. "I like Dr. Hoover. I think she is doing a good job but also has to do what Wayne is telling her."
On Friday, Rodolfich issued a public letter to state legislators and advocates who support the repeal of Common Core, as first reported by WLOX News in Biloxi.
"While I realize the opinion of licensed degreed professionals is not always valued by some in our state, I would ask that anyone with any understanding of creating new standards calculate how many millions of dollars and years it will take to complete this process again?" Rodolfich wrote. "This is a classic case of throwing the baby out with the bath water."
State Sens. Michael Watson and Angela Burks-Hill, both Republicans, sponsored the bill to repeal Common Core. Watson — no relation to Kelly Watson — fired off a response letter to Rodolfich.
"Mr. Rodolfich is a prime example of an educrat who thinks he knows what's better for your children and my daughters than we do," the senator wrote. "Mississippi's stellar teachers have done the best with what they've been given. However, their hands are tied by high-stakes testing and a lack of autonomy in their classrooms."
Common Core was developed by the National Governors Association and the Council of Chief State School Officers. Though not a federal program, the Obama administration's "Race to the Top" grants encourage states to adopt them.
Nikki Tashiro, who has a first-grade daughter at Martin Bluff Elementary, said she's concerned about the school contacting her about what she's said on Facebook about Common Core.
"Wayne doesn't have to look at a 6-year-old child crying asking, 'Can I drop out?'" Tashiro told TheBlaze. "To get her mind off of this, I asked her if she made any friends at recess. She said, 'Recess? There are not enough hours in the day to go play. We have to study for these tests.' Those aren't the words of a 6-year-old. She heard that at school. There is too much pressure over these standardized tests."
Tashiro said her other 21-year-old and 16-year-old daughters went to the Pascagoula School District, but didn't have to deal with convoluted Common Core homework.
"If Common Core is not gone next year, I'm pulling her out of public schools," Tashiro said.