Just three weeks after radical Islamic terrorists attacked satirical newspaper Charlie Hebdo over its mocking cartoons of the Prophet Muhammad and waged deadly assaults on other locations in Paris, France, the French government has released a website and video aimed at countering extremism and, more specifically, discouraging young people from joining Islamic State militants in Syria and Iraq.
The graphic, two-minute clip published on Stop Djihadisme (Stop Jihadism), a new counter-jihad website created by France's Interior Ministry, attempts to dismiss the promises that terrorists are making to individuals interested in joining jihadist groups, with the government telling French citizens that they will "discover hell on earth" and "die alone" if they join militants.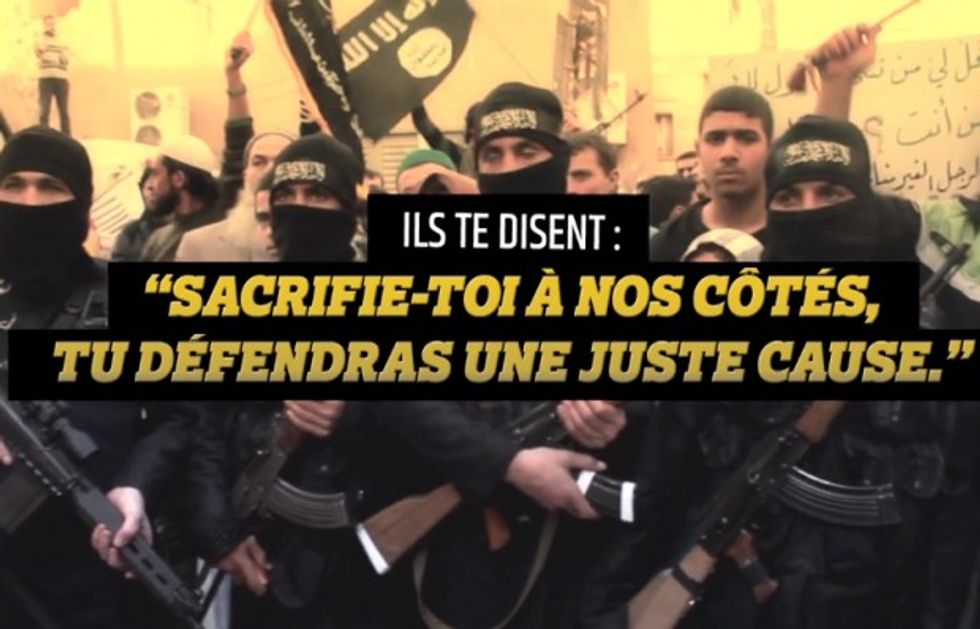 France's Interior Ministry
From injured and scared children to crucifixions and executions, footage present in the video shows the horrors that are unfolding at the hands of Islamic State militants — troubling images that the French government hopes will serve as powerful deterrents for those considering heading to the battlefield, the New York Times reported.
The video serves as a fact-check of sorts, offering rebuttals to claims made by Islamic State terror recruits. CNN International offers up a translation of the three Islamic state arguments that the French government seeks to debunk in the video:
They tell you: "Sacrifice yourself with us, you will defend a just cause." In reality: You will discover hell on earth and die alone, away from home.
They tell you: "Come start a family with one of our heroes." In reality: You will raise your children in war and terror.
They tell you: "Join us and come help Syrian children." In reality: You will be an accomplice in the massacre of civilians.
Watch the clip below (caution: disturbing themes and extreme violence):
The video is part of the government's new Stop Djihadisme website, which intends to push back against radical Islamic propaganda by reaching out to those at risk for joining extremists, their friends and family and the public at large, according to CNN International.
In addition to information about how France is pushing back against extremism and how people can take action to stop its spread, there is a hotline that citizens can call if they notice dangerous or potentially problematic signs among friends, loved-ones or acquaintances.
The website is a direct response to the Charlie Hebdo attack and related terror assaults that left 17 people dead earlier this month as well as concern over the hundreds of French citizens who are reportedly currently in Iraq and Syria.  
(H/T: NY Times)