Mitt Romney has formally shut the door on running for president in 2016.
"After putting considerable thought into making another run for president, I've decided it is best to give other leaders in the party the opportunity to become our next nominee," Romney said in a phone call to supporters Friday.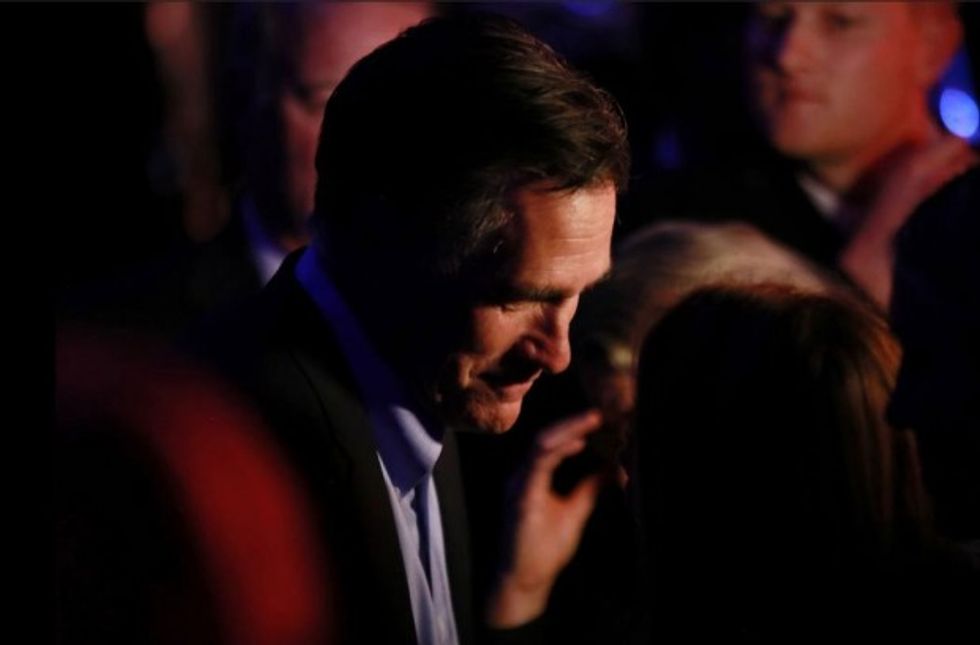 Mitt Romney speaks to fellow Republicans during the Republican National Committee's annual winter meeting aboard the USS Midway, Jan. 16, 2015. (Sandy Huffaker/Getty Images)
Romney said he believes his decision is what is best for the Republican Party and the country.  A copy of his remarks were first published by radio host Hugh Hewitt.
"I believe that one of our next generation of Republican leaders, one who may not be as well known as I am today, one who has not yet taken their message across the country, one who is just getting started, may well emerge as being better able to defeat the Democrat nominee," Romney said. "In fact, I expect and hope that to be the case.
• RELATED: Hear Romney's announcement
"I feel that it is critical that America elect a conservative leader to become our next president. You know that I have wanted to be that president. But I do not want to make it more difficult for someone else to emerge who may have a better chance of becoming that president," he said.
Romney nevertheless said he believes he could win the nomination, pointing to polls showing him in the top position. But, he said, "it would have been difficult test and a hard fight."
He said he will not be organizing a PAC to raise money or hire any campaign team.
"You can't imagine how hard it is for Ann and me to step aside, especially knowing of your support and the support of so many people across the country," he said. "But we believe it is for the best of the party and the nation."
Romney came up short against President Barack Obama in 2012 and was defeated for the GOP nomination in 2008 by Arizona Sen. John McCain. Still, on issues such as the economy, Russia and Syria, observers have said in recent months that Romney was right and should make another try.
He had repeatedly denied any interest in running again for the White House, but that seemed to crack this month when he told a group of supporters that he was considering another campaign.
He was even in the thick of things on Thursday after Obama told Democratic lawmakers that Romney's recent speeches showed he was "suddenly deeply concerned about poverty."
Romney tweeted in response: "Mr. Obama, wonder why my concern about poverty? The record number of poor in your term, and your record of failure to remedy."
Former Florida Gov. Jeb Bush reacted to Romney's announcement in a statement, calling him a patriot and saying few people have worked harder to get Republicans elected than Romney. A Romney candidacy would have been the biggest threat to Bush, who has established a fundraising committee and is formally exploring a 2016 bid.
"Though I'm sure today's decision was not easy, I know that Mitt Romney will never stop advocating for renewing America's promise through upward mobility, encouraging free enterprise and strengthening our national defense," Bush said. "Mitt is a patriot and I join many in hoping his days of serving our nation and our party are not over. I look forward to working with him to ensure all Americans have a chance to rise up."
Wisconsin Gov. Scott Walker and Florida Sen. Marco Rubio have also established their own fundraising committees and are expected to enter the Republican primary race, as are New Jersey Gov. Chris Christie, Kentucky Sen. Rand Paul and Texas Sen. Ted Cruz. One of Romney's 2008 primary rivals, former Arkansas Gov. Mike Huckabee, has left his show on Fox News in advance of another possible run.
In a statement, Paul said he wishes Mitt and Ann Romney the best.
"We have gotten to know them over the last few years and deeply respect their family and Mitt's service," Paul said. "I hope to work together with Mitt to grow our party and lead our country forward."
TheBlaze's Fred Lucas contributed to this report.
This post has been updated.