Chicago Mayor Rahm Emanuel says he'll pay the five traffic tickets his motorcade drivers have managed to rack up in just three months.
Emanuel defended the violations to reporters Thursday, saying, "Since there's a tail car, there are some instances where they need to get through a light because they can't get separated from the first car."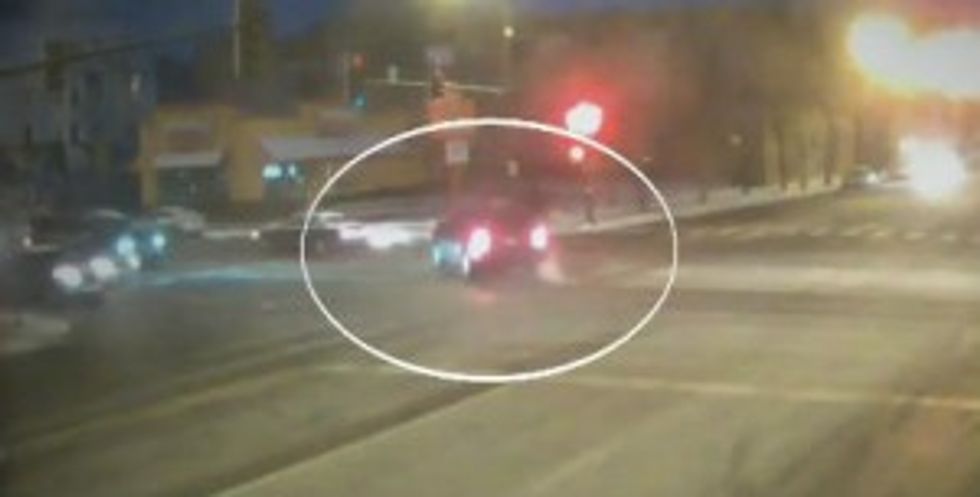 Chicago Mayor Rahm Emanuel's motorcade is seen in an intersection while a traffic light is red. (Image source: WLS-TV)
But as WLS-TV reported, Illinois state law says that isn't a valid reason for violating traffic rules. And even if it were, what's evident from red light camera footage is that even the motorcade's first vehicle failed to stop in at least two of the five violations.
One of the occurrences forced a man in a wheelchair at the corner of an intersection to wait for the motorcade to pass before crossing the street, even though the pedestrian had the right of way. In another instance, a senior citizen with the right of way had to wait until the two vehicles were through the intersection before crossing the street, WGN-TV reported.
All of this comes less than one year since the mayor railed against vehicles cruising through red lights.
"No one is above the law. Obey the law. Period. Full stop," Emanuel said in May. On Thursday, he was less specific, saying, "no one is above the law," but left it at that.
He said red lights and red light cameras are there to protect drivers and pedestrians, but also said the city should be open to adjustments, such as adding a countdown to traffic signals that would tell drivers how much time they have before the lights change.
While Emanuel wasn't driving either of the motorcade vehicles, he vowed to pay the tickets himself.
"I said I was gonna pay it, that's what it means when you're not above the law. That couldn't be clearer," he told reporters.
Emanuel was elected mayor of Chicago in 2011. Prior to that, he served as President Barack Obama's first chief of staff.
(H/T: WGN-TV)
–
Follow Jon Street (@JonStreet) on Twitter