After more than 315,000 votes were cast in an online poll on the Drudge Report, the undisputed frontrunner among Republican presidential candidates was Wisconsin Gov. Scott Walker.
Competing against 12 other possible candidates, Walker received 47 percent of the vote, or roughly 148,000 votes.
FILE - In this Aug. 8, 2014, file photo, Wisconsin Gov. Scott Walker addresses the Republican National Committee summer meetings in Chicago. Walker and his Democratic challenger Mary Burke were to debate for the first time Friday night in Wisconsin's hotly contested governor's race. (AP Photo/Kamil Krzaczynski, File)
The other dozen possible candidates included, former Florida Gov. Jeb Bush, Dr. Ben Carson, New Jersey Gov. Chris Christie, Sen. Ted Cruz (R-Texas), Mike Huckabee, former Alaska Gov. Sarah Palin, Sen. Rand Paul (R-Ky.), Rick Santorum, Donald Trump, former Texas Gov. Rick Perry, Carly Fiorina and Sen. Marco Rubio (R-Fla.).
Behind Walker, the next closest potential candidate was Cruz with about 13.5 percent of the vote, followed by Paul with roughly 12.5 percent. No other names had earned more than 7.25 percent of the vote as of 7 p.m. on Monday.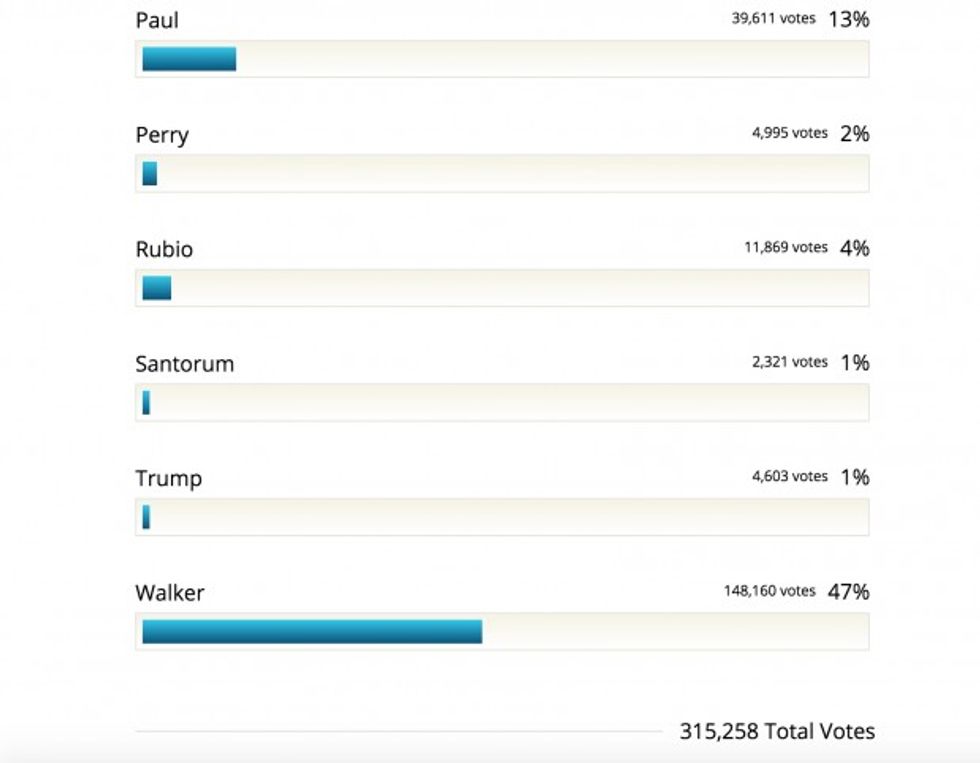 Source: PollDaddy/Drudge
You can cast your vote here.
---