© 2023 Blaze Media LLC. All rights reserved.
Watch and Rate 'Anthony Cumia Show' Host's Outrageous, Spot-On Jesse Ventura Impression
"I don't have time to bleed! I was a governor, a fighter, a Navy SEAL!"
Mocking a conspiratorial caller, who early on Twitter vowed to take a bus to his home, Anthony Cumia delivered an over-the-top, but spot-on, impression of former Minnesota Gov. Jesse Ventura on his online-based show Wednesday.
The caller was apparently worried about a secret spying agency called "Fourteen Eyes."
After putting on his Jesse Ventura costume, a bald head cap with stringy hair, Cumia dismissed the caller's conspiracy using comedy, though the jokes were mostly at Ventura's expense.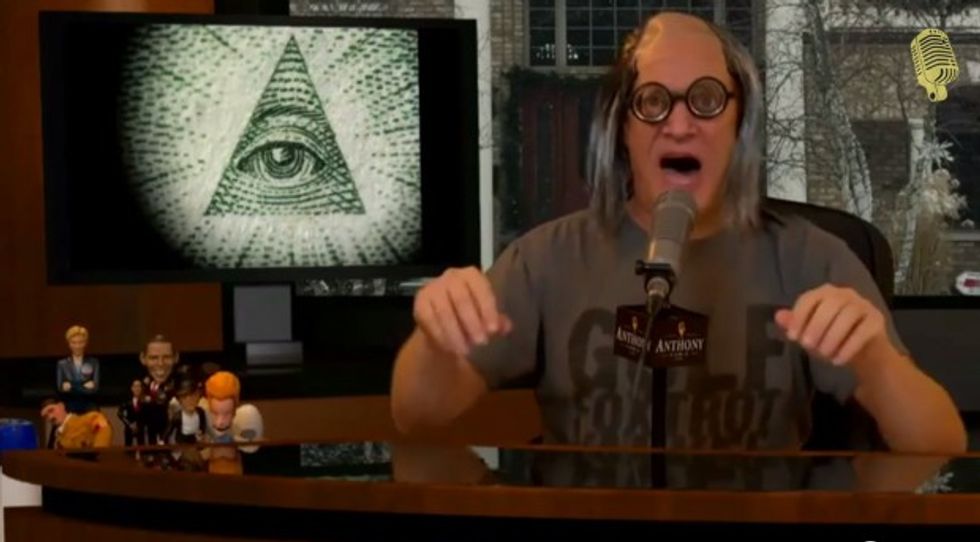 Source: The Anthony Cumia Show
"Is it like the Illuminati?" he asked as Ventura. "So you're saying UPS is involved with the CIA and the FBI? Is that what you're saying? I don't have time to bleed! I was a governor, a fighter, a Navy SEAL!"
He added, "The eye model for the dollar bill, that was me!"
Watching it is much funnier than reading about it. Watch the segment via "The Anthony Cumia Show" below:
Cumia has had some run-ins with Ventura in the past.
In 2009, when he was still co-hosting the "Opie and Anthony" radio show on SiriusXM, Ventura stormed out in the middle of the interview after getting into a fiery exchange with comedian Jim Norton. Things spun out of control after Ventura alleged the 9/11 hijackers might still be alive because the government lied about it.
You watch that explosive moment, which contains a lot of rough language, here.
Want to leave a tip?
We answer to you. Help keep our content free of advertisers and big tech censorship by leaving a tip today.
more stories
Sign up for the Blaze newsletter
By signing up, you agree to our
Privacy Policy
and
Terms of Use
, and agree to receive content that may sometimes include advertisements. You may opt out at any time.