Friday morning, during a discussion of President Obama's comments from the annual prayer breakfast in Washington D.C., MSNBC's Joe Scarborough could not contain himself.
After playing Obama's statement about Christians who committed violent acts during the Crusades and the Inquisition, the "Morning Joe" host blurted out, "That's baffling to me."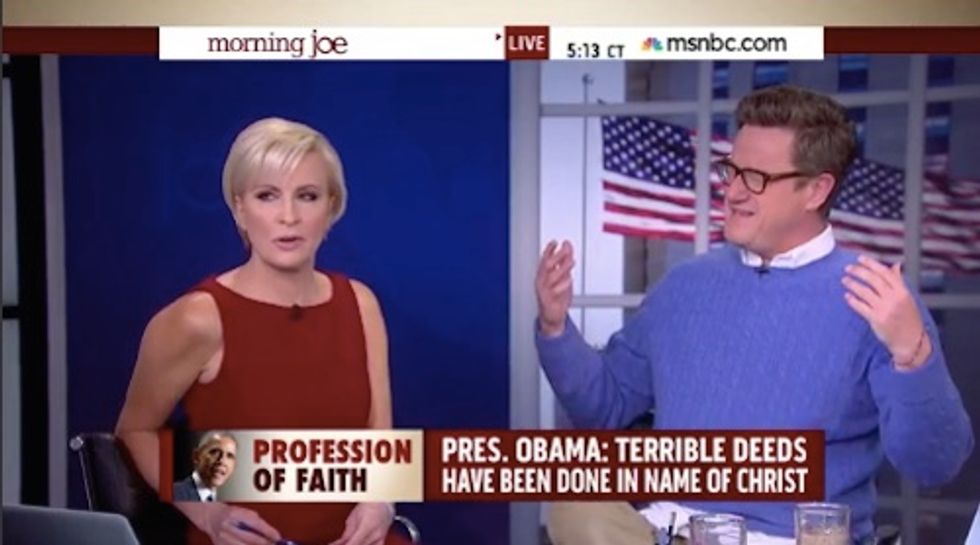 Image: Screen grab from MSNBC.com
"The president having to go back, 700, 800, 900 years?" said Scarborough.  Continuing, "You see this when you have people that somehow want to paint a broad brush...'Yes, uh, radical Islam's bad, but look what Christianity does.'"
Scarborough's co-host, Mika Brzezinski attempted to lessen the tension by saying, "I think the timing's bad."
Brzezinski comment only seemed to spur the already seething Scarborough to a more aggravated level.
"Why does he feel the need to go back 800 years?"  This stupid, left-wing moral equivalency. Sometimes you can just say, 'hey, hey, ya know what, there's some really really bad Muslim extremists.'"
Joe's unfiltered rant continued for another ninety seconds. Brzezinski again attempted to rein him in, saying, "OK, OK..."
To which Scarborough responded, "No, it's not OK." Adding, "It almost makes you ask the question, 'Where did he go to church?'"
Watch the entire segment:
A bit later in the program, Dr. Zuhdi Jasser joined the show and also weighed in on the controversy,
__
Follow Mike Opelka (@Stuntbrain) on Twitter.