ATHENS, Greece (TheBlaze/AP) — Greece's leftist prime minister has presented his newly-elected government's policy statement to lawmakers, proclaiming an end to the era of austerity and "five years of bailout barbarity."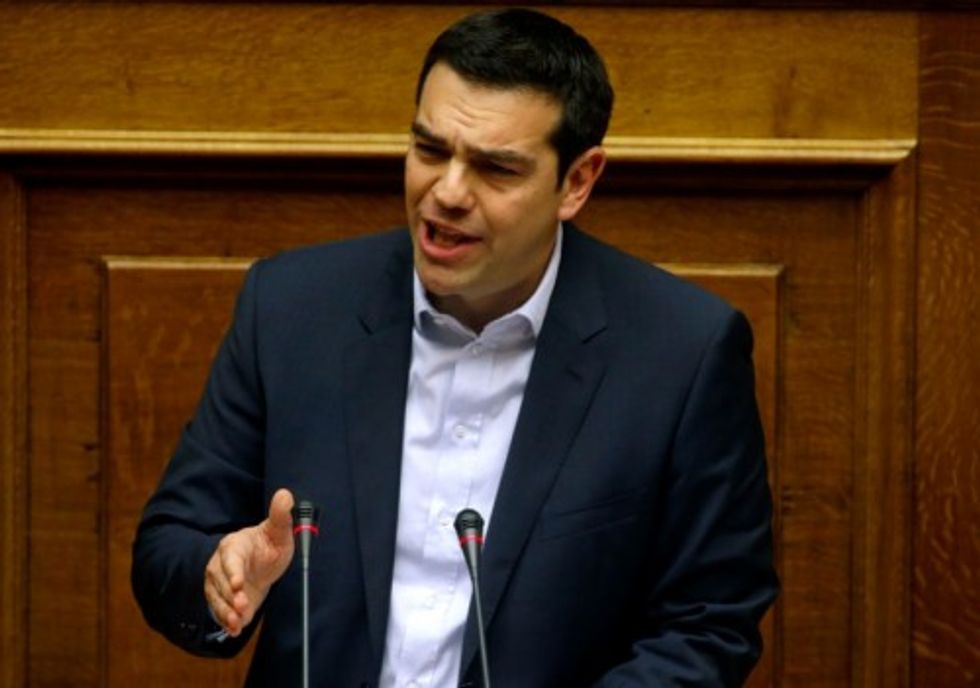 Greece's new prime minister Alexis Tsipras addresses the parliament during government's policy statement in Athens, on Sunday, Feb. 8, 2015. (Image source: AP/Thanassis Stavrakis)
"The bailout failed," the 40-year-old leader told parliament to applause, Reuters reported. "We want to make clear in every direction what we are not negotiating. We are not negotiating our national sovereignty."
Insisting on a "bridge agreement" that would give Greece and its creditors time to negotiate a new debt deal much more favorable to the country by June, Prime Minister Alexis Tsipras appeared to insist on an approach that got short shrift from European Union partners in a series of meeting that Tsipras himself, and his finance ministers, had with European officials this past week.
More from Reuters:
Tsipras's stance is being closely watched by European Union leaders who to date have shown scant willingness to meet his demands, fearing a wholesale backtracking on the fiscal and economic reforms and a return to the free-spending days of the past that helped Greece rack up over 300 billion euros in debt.

In a bid to show he was serious about avoiding a new upward spiral in public spending, Tsipras announced a series of cuts to make the government leaner by trimming ministerial benefits like cars and selling one of the prime minister's aircraft.
Tsipras emphasized measures to provide for the poor and to clash with vested interests. But raising the minimum wage to pre-crisis levels was postponed until 2016.
Greek lawmakers will debate the policy statement and hold a confidence vote at midnight Tuesday.
—
Follow Dave Urbanski (@DaveVUrbanski) on Twitter