NEW YORK (TheBlaze/AP) — After New York Knicks exec James Dolan received a pointed complaint email from a longtime fan of the team, Dolan tore into the fan with a response, wondering if the man is an alcoholic and telling him to root for the Nets instead.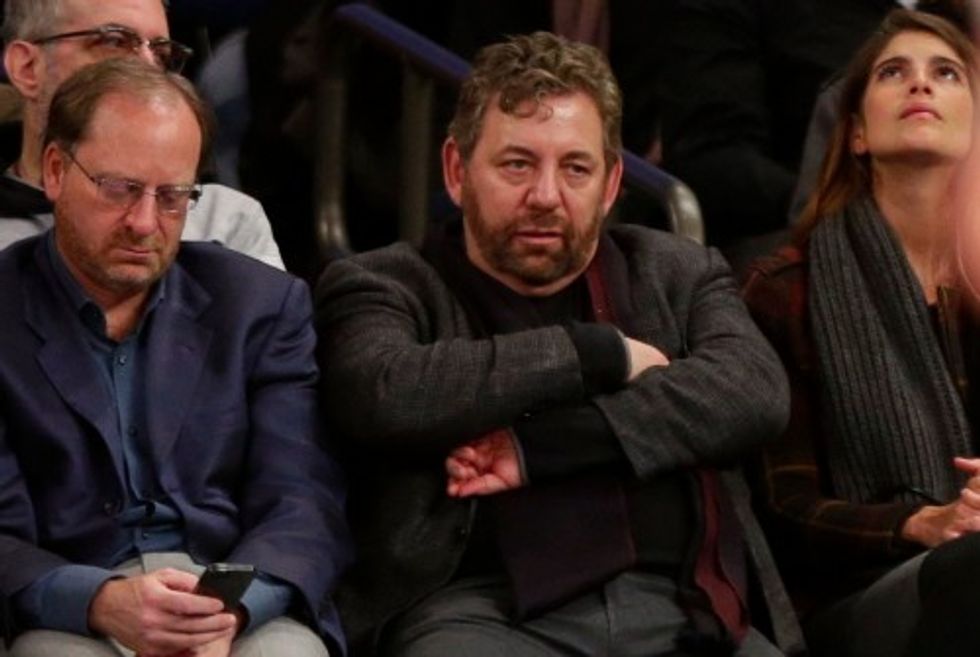 Madison Square Garden Chairman James Dolan, center, watches an NBA basketball game between the New York Knicks and the Charlotte Hornets, Saturday, Jan. 10, 2015, in New York. (Image source: AP/Frank Franklin II)
The complaint email was sent by the father of filmmaker Aaron Bierman. The elder Bierman told Dolan he's been a Knicks fan since 1952 and is "utterly embarrassed" by Dolan's management of the team and wants him to sell. He ended the email saying, "You have done a lot of utterly STUPID business things with the franchise. Please NO MORE."
In response, Dolan called his adversary a "hateful mess" and a "negative force" to anyone with whom he comes into contact, among a lot of other barbs. Here's the full text of Dolan's Jan. 23 response, via Deadspin:
Mr Bierman

You are a sad person. Why would anybody write such a hateful letter. I am.just guessing but ill bet your life is a mess and you are a hateful mess. What have you done that anyone would consider positive or nice. I am betting nothing. In fact ill bet you are negative force in everyone who comes in contact with you. You most likely have made your family miserable. Alcoholic maybe. I just celebrated my 21 year anniversary of sobriety. You should try it. Maybe it will help you become a person that folks would like to have around. In the mean while start rooting.for the Nets because the Knicks dont want you.

Respectfully

James Dolan
Dolan is the chairman of Madison Square Garden, where the Knicks play, and oversees operations of the team. An MSG spokesman confirmed the response email was written by Dolan.
—
Follow Dave Urbanski (@DaveVUrbanski) on Twitter