The Department of Homeland Security appeared to be headed for a partial shutdown on Tuesday, as House and Senate Republicans seemed to run out of ideas on how to advance a funding bill that has been stuck in the Senate.
The DHS funding bill has failed to move in the Senate since last week, as Democrats oppose its language that would defund President Barack Obama's executive action on immigration.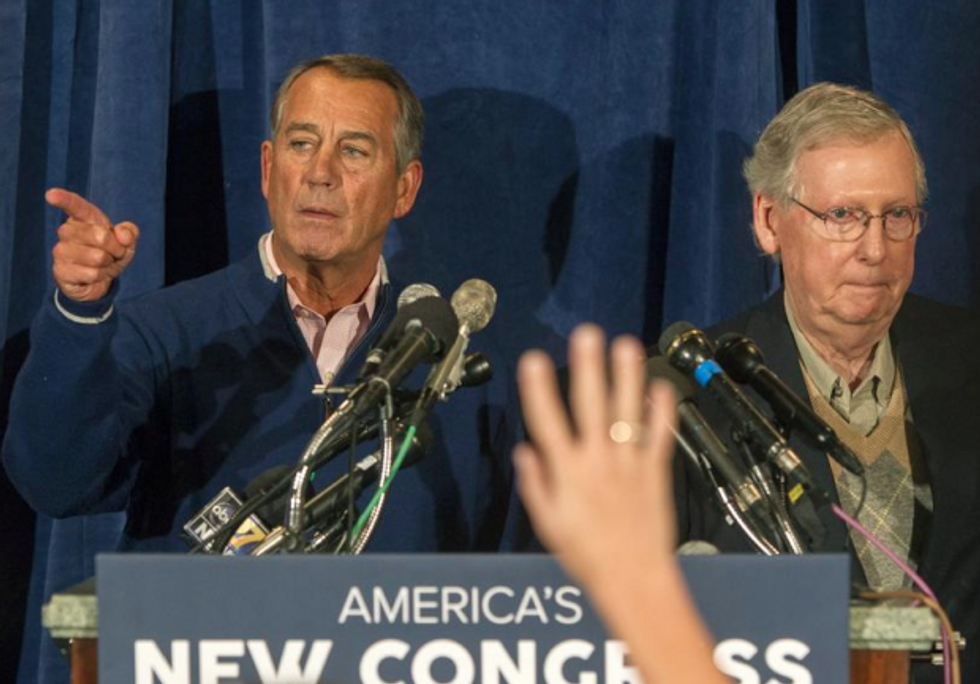 House Speaker John Boehner (R-Ohio) and Senate Majority Leader Mitch McConnell (R-Ky.) are each looking at each other to move a DHS funding bill that's been stuck in the Senate for a week now. Image: AP Photo/PennLive.com, Mark Pynes
Senate Republicans have blamed Democrats for holding up the bill in order to protect Obama from any attempt to alter his controversial decision to give legal protection to up to 5 million illegal immigrants. By Tuesday afternoon, Senate Majority Leader Mitch McConnell (R-Ky.) indicated that the only way out of the mess is for the House to pass a new DHS bill.
"I can tell you I think it's clearly stuck in the Senate," McConnell told reporters, according to the Associated Press. "And the next step is obviously up to the House."
McConnell wasn't specific about what the House should pass, although many conservatives fear the GOP is about to cave in and pass a DHS bill that doesn't hamper Obama's immigration plan.
Regardless, a spokesman for House Speaker John Boehner (R-Ohio) fired back soon after to say the House wouldn't be taking up any new bill. "Until there is some signal from those Senate Democrats what would break their filibuster, there's little point in additional House action," he said.
If House Republicans refuse to consider a new bill, and at least six Senate Democrats refuse to allow the current bill to move in the Senate, the two sides would be deadlocked, and DHS would run out of funding on Feb. 27.
Most DHS workers are classified as "essential," and most would be expected to stay on the job while the two parties try to find a solution. But over the weekend, DHS Secretary Jeh Johnson warned that even a continuing resolution to keep DHS level-funded would harm U.S. national security, by preventing the department from updating its border security technology and performing other upgrades.
"Border security is not free," he said Tuesday. "The men and women of DHS need a partner in Congress to fund their efforts."
While the funding situation seems dire, many of these disputes over money have been solved in recent years at the very last minute. Both the House and Senate are out next week, which might give the two parties time to figure out some way forward.
After that, they will return the week of Feb. 23, and will have until that following Friday to find a deal before a partial shutdown happens at DHS.