She's the top person in charge of monitoring money's influence on U.S. elections — and she's jetting around the world using donated money.
Expenses like $600 for one day of meals and an extra $1,000 on a plane ticket lead to a tough question: Why is Ann Ravel, the 2015 chair of the Federal Election Commission, spending so much cash as she jets around the world on other people's dime?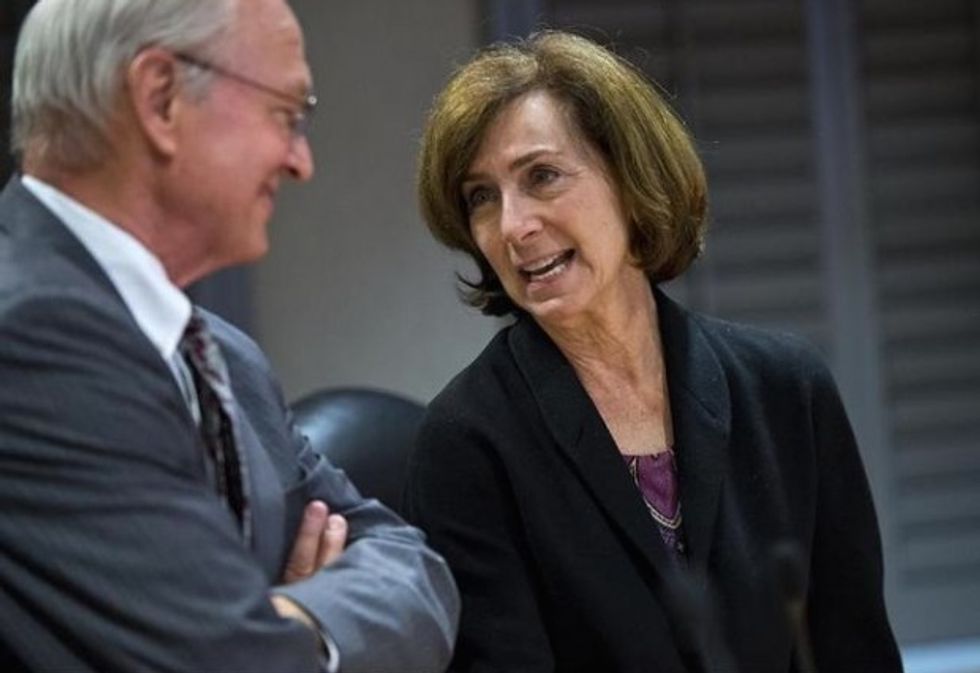 FEC Commissioner Ann Ravel confers with Commissioner Steven Walther before a meeting. (Tom Williams/CQ Roll Call)
According to travel expense reports filed with the U.S. Office of Government Ethics, Ravel took five trips around the world between October 2013 and September 2014, paid for by various foreign and domestic organizations.
Take a closer look at her spending, and some strange figures soon become clear.
Last February, Ravel and fellow FEC Commissioner Ellen Weintraub traveled to Mexico City for a conference. Weintraub spent $774 on her airfare and $226 on her hotel and breakfast.
Ravel, on the other hand, racked up $1,777 for airfare and $277 on her hotel and breakfast.

Image source: Office of Government Ethics
In May, Ravel traveled to conferences in Big Fork, Montana, and El Salvador.
In both cases, an organization outside the FEC picked up the tab, but unlike other trips, the expense reports do not show the outside organization paying for airfare — because the FEC paid for Ravel's plane travel.
In August, Ravel traveled to the Dominican Republic for a seminar and spent nearly $600 on meals during the one-day trip, the reports show.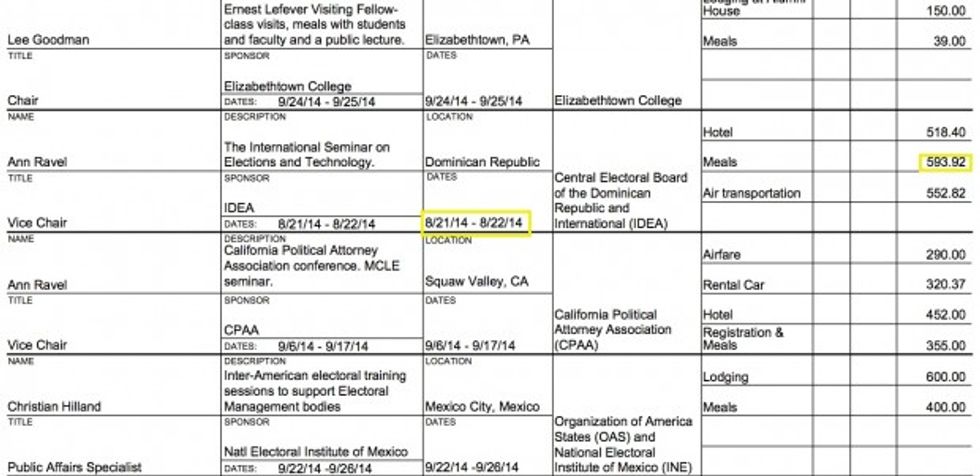 Image source: Office of Government Ethics
Charged with overseeing and enforcing campaign finance rules, the six-member FEC is defined on strictly partisan lines: no more than three members can be members of the same political party, meaning the commission is typically a three-Democrat, three-Republican composition.
How does Ravel's spending stack up against her fellow commissioners'?
In the preceding two years, from October 2012 to September 2014, Office of Government Ethics reports indicate that six commissioners took trips funded by outside organizations — Ravel and Weintraub led the pack in spending by a wide margin.
Republican (and 2014 FEC chair) Lee Goodman spent a total of $1,065 on two trips in those two years.
Democrat Cynthia Bauerly spent $953 on two trips; Republicans Caroline Hunter and Donald McGahn each took one under-$500 trip.
Ravel, on the other hand, spent more than $6,500 on five trips — averaging some $1,300 per trip, compared to the roughly $500 per trip spent by Goodman, Bauerly, Hunter and McGahn.
[sharequote align="center"]Ravel spends upwards of $1,300 per trip. "She always found money for junkets," recalled a colleague.[/sharequote]
Only Weintraub outspent Ravel in the two-year period, with nearly $25,000 on nine trips, many of them foreign and some as far abroad as Albania.
Weintraub is one of the FEC's most senior members, having served on the commission since 2002 and as its chair in 2013.
An FEC spokesperson affirmed to TheBlaze Monday that the FEC had OK'd Ravel's spate of trips.
"The Commission approved Commissioner Ravel's participation in all of these conferences because her participation in the exchange of ideas related to campaign finance at these events is in the best interests of the agency and its mission," the spokesperson said.
The spokesperson said Ravel has always flown economy class on her FEC jaunts — including the $1,777 Mexico City trip — and that the Dominican Republic trip during which Ravel reported spending $600 on food was in error.
"It appears...that the amount filed with OGE is inaccurate," the spokesperson wrote. "The estimated cost for meals for each participant was $296.96."
The spokesperson did not explain how the reporting error may have occurred, nor did she immediately provide the prices of the taxpayer-funded airfare for Ravel's Big Fork, Montana, and El Salvador trips.
Sources who spoke to TheBlaze off the record described Ravel as a cunning political operator who excelled at using other people's money to fund her luxurious travel habit.
Dr. James Thurber, professor of government at American University in Washington, D.C., told TheBlaze that federal employees having outside organizations fund their travel is "rare" and "a shade of gray," but that in Ravel's case, it likely doesn't cross into unethical territory.
[sharequote align="center"]"Public officials shouldn't be receiving private funding. It's not in the public interest."[/sharequote]
"The FEC is of great interest to lots of people in world striving to streamline elections and reduce corruption," Thurber said, noting that Ravel could well be sharing valuable expertise with foreign entities.
He also noted that five trips in one year is not a stunning figure — though he was surprised by some of the specific costs of Ravel's trips.
Overall, however, accepting large amounts of travel money from outside sources is definitely not "normal" for federal employees, Thurber said.
"Frequently, employees in the executive branch and on the Hill spend their own money on travel to be extremely careful [about the appearance of impropriety]," Thurber said. "Public officials shouldn't be receiving private funding. It's not in the public interest."
Ravel was appointed to the FEC by President Barack Obama in 2013.
In preparation for her 2015 chairmanship, Ravel has pushed to enhance the FEC's regulatory scope, proposing that political YouTube videos and tweets might be regulated — even if no one paid to post them.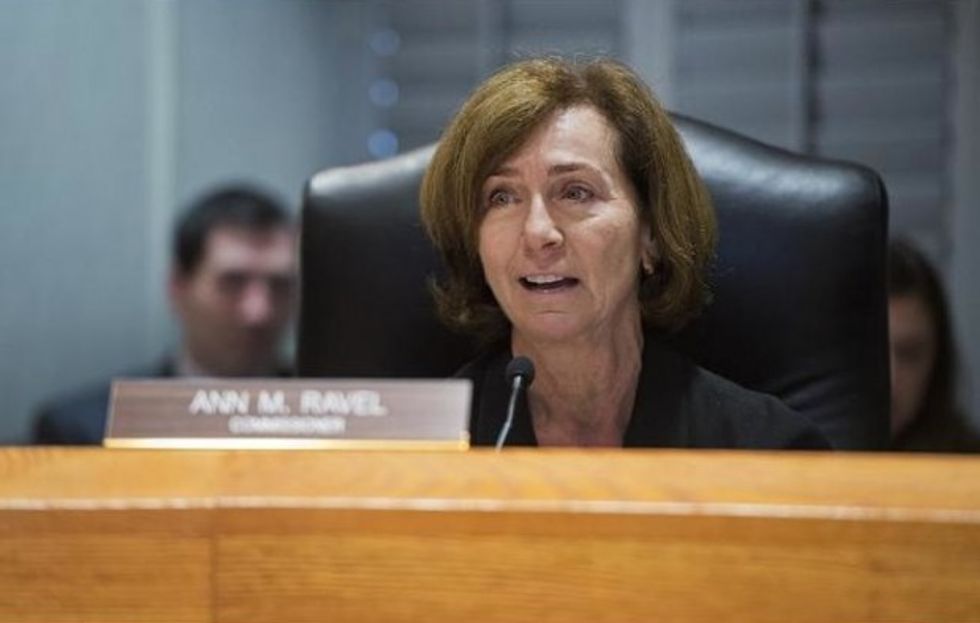 FEC Commissioner Ann Ravel makes a statement during her first meeting at the Commission's downtown office. (Tom Williams/CQ Roll Call)
Ron Rotunda, a law professor at Chapman University in California who served with Ravel on the state's Fair Political Practices Commission, said her tenure as chair there — which immediately preceded her move to the FEC — was characterized by a penchant for expensive travel.
"The whole state had budgetary problems because it spends like a drunken sailor," Rotunda told TheBlaze.
During her FPPC tenure from 2011 to 2013, Ravel told commissioners that she wouldn't be able to keep paying them for their pre-meeting prep time, Rotunda said, "but she always found money for junkets."
Despite the expense of jetting between Sacramento and Los Angeles, "[Ravel] and her entourage" often traveled up and down the state for meetings, Rotunda said.
In 2011, the Los Angeles Times reported that Ravel was raking in $305,000 per year by collecting her FPPC salary on top of a public pension.
Justifying the double dipping, Ravel told the Times, "I feel like the taxpayers are getting their money's worth from me."
—
Follow Zach Noble (@thezachnoble) on Twitter