Conservatives outnumber liberals in 47 out of 50 states, according to new data released by Gallup.
Only three states — Hawaii, Vermont and Massachusetts — and the District of Columbia have a higher percentage of self-described political liberals than conservatives, with a larger right-of-center mindset found in all other U.S. states.
And while Hawaii, Vermont and Massachusetts are the most liberal, with around 30 percent of the population in each claiming to be left-of-center (that proportion is 36 percent for Washington, D.C.), the most conservative states are Mississippi, Alabama and Louisiana, with between 46 percent and 49 percent stating that they embrace right-of-center political ideologies, Gallup reported.
Of course, not everyone identifies as a liberal or a conservative, with the moderate population in every U.S. state and the District of Columbia fluctuating between 31 percent and 44 percent. Delaware is the most moderate state with 43.9 percent of the population expressing a middle-of-the-road approach to politics.
Not surprisingly, liberal states tend to be on the coasts, with conservative states mainly falling in the south.
See lists of the top 10 conservative and liberal states below: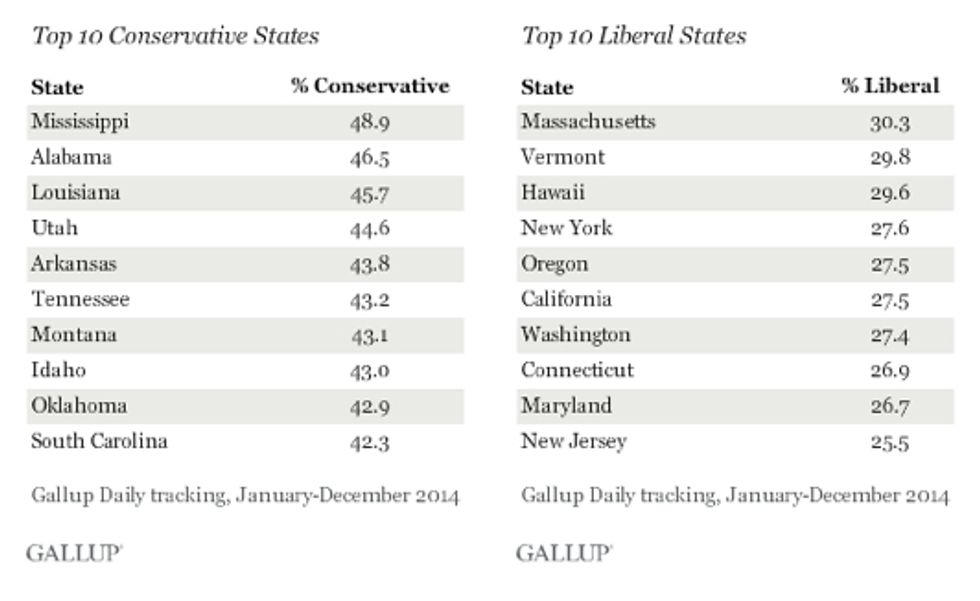 Gallup
And see a full list of the breakdowns for conservative, liberal and moderate residents for each state and the District of Columbia.
Data was collected in December and January from a random sample of 177,034 Americans aged 18 and older, with the margin of error for most states around +/- 3 percentage points.
(H/T: Christian Post)