The State Department announced early Wednesday morning that it has closed the U.S. embassy in Yemen, due to a violent transition in that country led by rebels linked to Iran.
"Due to the uncertain security situation in Sana'a, the Department of State has decided to suspend our embassy operations and our embassy staff have been temporarily relocated out of Sana'a," said State Department spokeswoman Jen Psaki, referring to Yemen's capital city. "Recent unilateral actions disrupted the political transition process in Yemen, creating the risk that renewed violence would threaten Yemenis and the diplomatic community in Sana'a."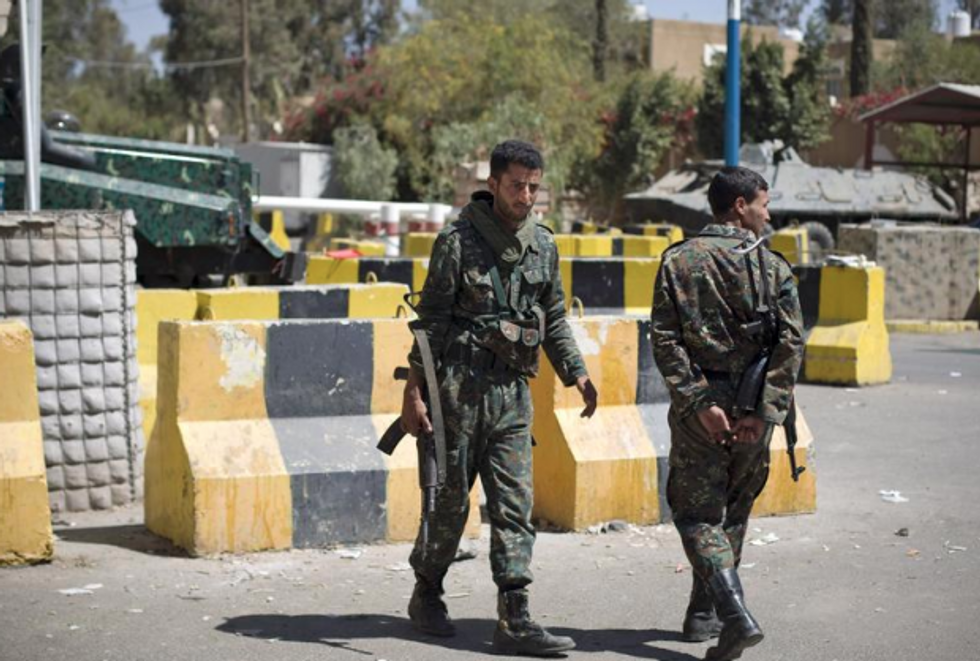 Policemen stand guard at the entrance of the U.S. embassy in Sana'a, Yemen. The State Department has closed up the embassy due to ongoing violence in the country. Image: AP Photo/Hani Mohammed
The move comes just five months after President Barack Obama held up Yemen as an example of a successful U.S. foreign policy effort. "This strategy of taking out terrorists who threaten us, while supporting partners on the front lines, is one that we have successfully pursued in Yemen and Somalia for years," Obama said on September 10.
On Tuesday, Psaki said State had been reducing staff in Yemen over the last few weeks because of the violent transition that saw Yemeni President Abd-Rabbu Mansour Hadi resign his post, under pressure from Shiite Houthi rebels. But she had no comment on reports that the embassy was about to close.
"I just provided all the information I can at this point in time," she said.
She said the U.S. ambassador was in Yemen as of Tuesday, but she didn't say if he would be in the country Wednesday.
Psaki said the Obama administration would continue to try to explore a "peaceful, prosperous and unified Yemen," but said these efforts would take place outside the U.S. embassy. She also said the administration is holding out hopes for democratic reforms.
"Having worked bravely and tirelessly to bring about a political transition in Yemen, the Yemeni people have reason to expect to see this process resume with meaningful public timelines for finishing a new Yemeni constitution, holding a referendum on this constitution, and launching national elections," she said.
Psaki stressed that the U.S. wants President Hadi released, along with other members of his cabinet. "An inclusive political process cannot resume with members of the country's leadership under house arrest," she said.
She said the decision to evacuate the embassy reflects an effort to protect U.S. personnel, and said U.S. officials would try to return to Sana'a "when the situation on the ground improves."