The Greek economy could fall apart, but its left-wing government is stalwartly demanding unconditional loans from the rest of Europe.
A European Union flag billows in the wind as the ruins of the 5th century BC Parthenon temple is seen in the background on the Acropolis in Athens, on Monday, Nov. 26, 2012. The ministers of the 17 countries that use the euro are meeting in Brussels later Monday to try to reach an agreement on disbursement of Greece's next rescue loan installment, after several delays. Athens faces bankruptcy without the cash. (AP Photo/Petros Giannakouris)
Greece has teetered on the edge of bankruptcy for years, relying on loans from other EU members to stay afloat, but after the left-wing Syriza party swept into power in Greece's January elections, the Greek government has headed back to its creditors demanding that the terms of its loans be drastically revised.
A meeting last Wednesday failed to produce an agreement — so the Greeks, with only a few weeks worth of cash left, and their creditors are heading into new talks Monday morning.
As the Monday meeting in Brussels loomed, Greek finance minister Yanis Varoufakis penned an op-ed in the New York Times.
His goal: "To fashion a fresh mind-set that transcends national divides, dissolves the creditor-debtor distinction in favor of a pan-European perspective, and places the common European good above petty politics."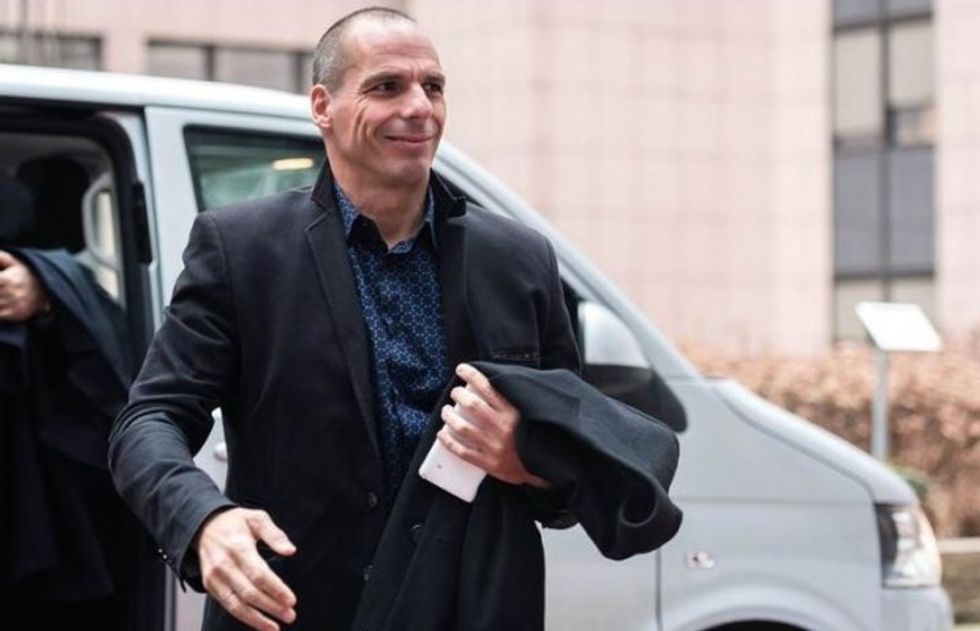 Greece's Finance Minister Yanis Varoufakis arrives for an Eurogroup meeting at the EU Council building in Brussels on Monday, Feb. 16, 2015. Greece's radical left government and its European creditors are heading into new talks Monday on the debt-heavy country's stuttering bailout program. (AP Photo/Geert Vanden Wijngaert)
Varoufakis decried a "tyranny of consequences," implying that the economic laws of scarcity need not apply to Greece because its thriftier northern neighbors have cash to spare and should willingly fork it over without any conditions.
He also pledged that he was not bluffing and was prepared to hold firm to his "red lines" — lines that could prevent an agreement and could lead to Greece's catastrophic exit from the Eurozone.
Varoufakis appealed to German philosopher Immanuel Kant in his demand for cash, writing:
Our government is not asking our partners for a way out of repaying our debts. We are asking for a few months of financial stability that will allow us to embark upon the task of reforms that the broad Greek population can own and support, so we can bring back growth and end our inability to pay our dues.

One may think that this retreat from game theory is motivated by some radical-left agenda. Not so. The major influence here is Immanuel Kant, the German philosopher who taught us that the rational and the free escape the empire of expediency by doing what is right.

How do we know that our modest policy agenda, which constitutes our red line, is right in Kant's terms? We know by looking into the eyes of the hungry in the streets of our cities or contemplating our stressed middle class, or considering the interests of hard-working people in every European village and city within our monetary union. After all, Europe will only regain its soul when it regains the people's trust by putting their interests center-stage.
Is Europe really not doing what is right?
That's the problem: Europe is doing what is right - for the people of those countries that have all the power and leverage - at the expense of those without, just as 'globalization' has done over the past century. And because Europe isn't and will never be a true federal union, to those same people who do benefit from the Eurozone, the suffering of a "few" tens of millions of "peripheral" Europeans is, to continue using military analogies, perfectly acceptable collateral damage.
As Business Insider noted Monday morning, the outlook for an agreement between Greece and its creditors is not good.
—
Follow Zach Noble (@thezachnoble) on Twitter