When 15-year-olds Tyler Howard-Gotto and Jonah May realized they were stranded deep into the Maine wilderness Monday night, they could have panicked. But instead, they relied on Howard-Gotto's survival training he'd learned at a young age.
Howard-Gotto had grown up nearby and was familiar with the area, although both boys were visiting to attend the funeral of Howard-Gotto's father, Tim Gotto who died January 19 after being struck by a car. But even under these tragic circumstances, the teens maintained optimism.
"You gotta keep calm in a survival situation. That's the whole thing," Howard-Gotto told the Portland Press-Herald.
They were about 15 miles from where they left when Howard-Gotto, who was driving the snowmobile on which they were traveling, took a wrong turn. The small vehicle then waded into deeper snow and before they knew it, they were stuck.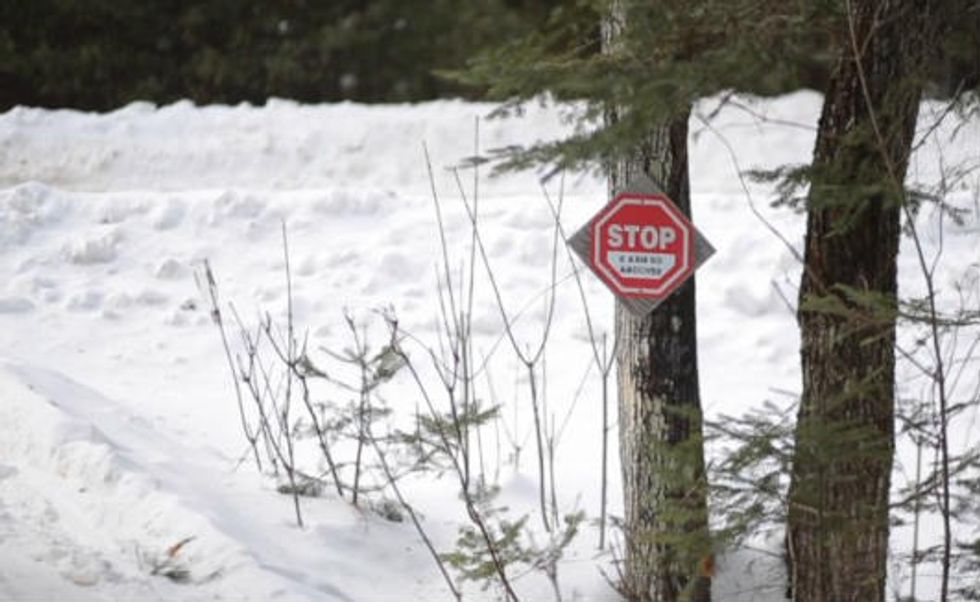 Image source: Portland Press-Herald
Miles from anyplace warm, they soon realized they weren't just stranded. Both had their cellphones on them, but neither of their devices had a cellular signal.
They were lost in the darkness of the woods in subzero temperatures. Their focus soon shifted from finding their way home to finding someplace to keep warm until morning.
By that time, their families were worried since the two hadn't showed up. So they notified authorities and a search operation was soon underway, according to the Press-Herald.
But Howard-Gotto and May, who had already located a storage shed, tore boards off the door and broke the lock to get inside. They found gasoline along with a broken sign to start a fire, hoping the search crews they could hear overhead would see it and rescue them.
Eventually realizing that was wishful thinking, the two nestled in for the night in a small golf cart parked inside the shed.
Having survived bitter cold overnight temperatures as low as -12 degrees with wind chills well below that, the two teens awoke Tuesday morning, without hypothermia, and began their long trek back to their families.
They walked four miles before getting a ride with a motorist, where Howard-Gotto was then able to call his grandpa, Phil Howard.
"You just can't imagine how relieved I am, and my grandson's all upset because they made a big deal about it. He's well-educated about the woods," Howard told the Press-Herald.
Howard-Gotto's mother Tracy Howard, who tried to get them both to stay in the night before, said she was "relieved as heck."
"It's been a long night," the mother said.
(H/T: Portland Press-Herald)
–
Follow Jon Street (@JonStreet) on Twitter