Glenn Beck on Wednesday said he was disgusted by Vice President Joe Biden's "disgusting" behavior with women, adding that what Biden did on Tuesday may have been "the creepiest thing" he's seen yet.
Biden was at the swearing-in of Defense Secretary Ashton Carter, but it wasn't Carter's speech that was attracting attention: it was Biden's proximity to Carter's wife.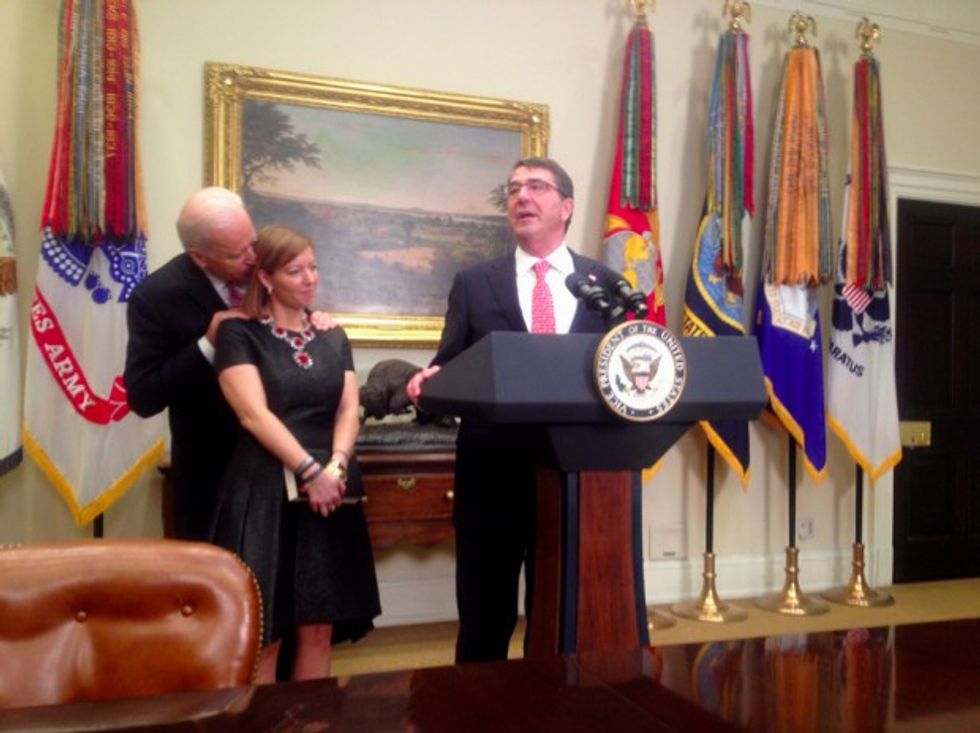 This photo taken with an iPhone shows Vice President Joe Biden talking with Stephanie Carter, wife of incoming Defense Secretary Ash Carter, right, during Carter's swearing in ceremony, Tuesday, Feb. 17, 2015, in the Roosevelt Room of the White House in Washington. Carter, 60, is President Barack Obama's fourth secretary of defense. (Nedra Pickler)
"His wife is standing behind the podium, and Joe Biden is like massaging her shoulders and then whispering things in her ear. It is so disturbing," Beck said. "She's trying to listen to her husband. It's her moment of listening to her husband, and she's got this creep on her!"
"You know she can't inch away from him because that would make news," Beck's co-host Pat Gray added.
"If it wasn't Joe Biden, there would be legitimate issues popping out. There would be actual claims against this guy," Stu Burguiere agreed.
"If this were any Republican, people would be all over this," Beck said. "The only reason why the press isn't is they don't want to hurt anybody in their beloved administration. But that's creepy. I'm sorry. It's just creepy."
Beck questioned why Biden is just referred to as "Joe being Joe" on the many occasions he has been photographed sidling up to or saying inappropriate things to various women.
Biden gets the same pass when making racist remarks, Beck said, playing audio of Biden saying, "You cannot go to a 7-Eleven or a Dunkin' Donuts unless you have a slight Indian accent, and I'm not joking." Biden also referred to bankers as "Shylocks" and expressed delight at finding a "mainstream African-American who is articulate and bright and clean and a nice-looking guy" in Barack Obama.
"Our vice president is beyond a joke. He's creepy," Beck concluded.
[mlbvideo content_id=37526083]
The full episode of The Glenn Beck Program, along with many other live-streaming shows and thousands of hours of on-demand content, is available on just about any digital device. Click here to watch every Glenn Beck episode from the past 30 days for just $1!