A Muslim cleric gave a fiery speech in Copenhagen, Denmark, calling all non-Muslims "infidels" and inciting to "war against the Jews" just one day before a terrorist gunman launched a deadly attack on a group of free speech advocates and a synagogue.
The Middle East Media Research Institute obtained video of the Arabic sermon given by Hajj Saeed, imam of the Al-Faruq Mosque in Copenhagen, and translated excerpts of it. While there is no evidence that suspected gunman Omar Abdel Hamid El-Hussein, whom witnesses heard shouting "Allahu akbar," heard the sermon, it does offer a glimpse into the kind of hardline messaging he may have been exposed to in worship services attended by Middle Eastern immigrants in Copenhagen.
"All people are called to convert to Islam, and anyone who refrains from doing so, after having been presented with evidence, is an infidel, without a doubt," Saeed said.
The preacher recounted the experience of the Prophet Muhammad who had Jewish neighbors as an example of how to respond to interfaith efforts.
"Did he call for closer relations, harmony and dialogue with them, in the manner of the U.N. and of those who call to reconciliation truth and falsehood? Or did he call upon them to worship Allah?" Saeed said, according to the translation. "When they violated their pledge and did not accept this call – well, you know what he did to them. … He waged war against the Jews."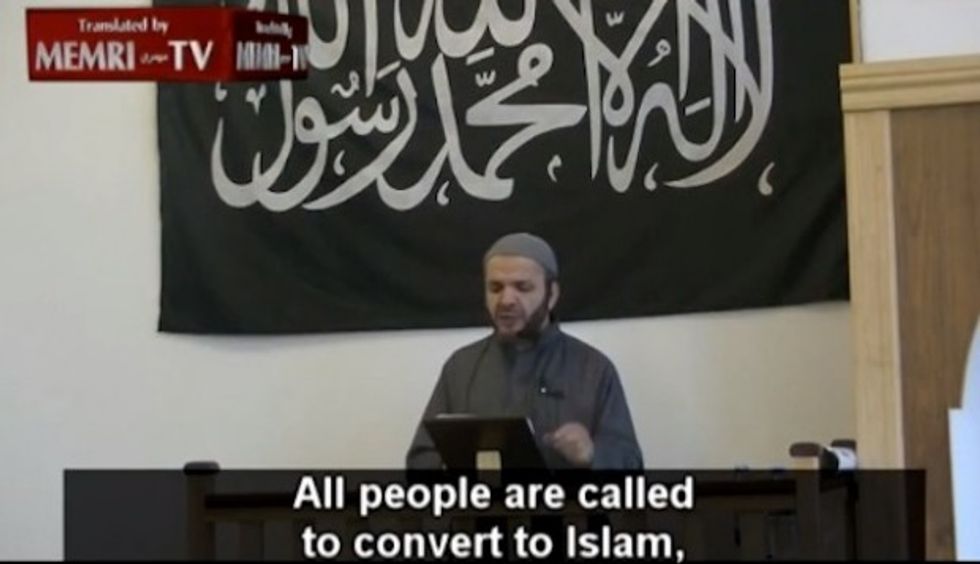 Hajj Saeed, imam of the Al-Faruq Mosque in Copenhagen, Denmark, called non-Muslims "infidels" and incited to "war against the Jews" in a sermon one day before a Danish Muslim launched twin terrorist attacks. (Screenshot: YouTube)
The crux of his message was aimed at swaying congregants away from interfaith efforts – which he labeled a "malignant idea" – and warned its aim was to lure Muslims away from Islam.  Saeed called those who advocate interfaith dialogue "Satan and his followers."
"Allah has made laws that regulate our relations with them, if we live in their countries. The so-called interfaith dialogue is not part of these laws," the Muslim cleric said.
Offering insight as to how some Danish Muslims may view the country in which they live, Saeed said Islam was an "alternative to their bogus culture, which has hurled them into the abyss of depravity and corruption, and which has reduced them from humanity to the level of beasts."
He contended that the United Nations was "established in order to fight Islam, to destroy the state of Islam, and to draw the Muslims away from their religion."
MEMRI reported that the sermon was posted online by the Scandinavian chapter of Hizb ut-Tahrir, a group dedicated to establishing a global caliphate. As of Thursday morning, the video did not appear to be on the group's website.
Here are translated excerpts of the sermon: