The headlines are flying everywhere.
"Niagara Falls Has Almost Completely Frozen Over," a headline on The Weather Channel read.
"Niagara Falls has frozen over as extreme weather continues across the East Coast — and it is going to get even colder," the Mail Online claimed in a headline.

Image source: Screen grab / Mail Online
"Niagara Falls Freezing Over Is a Spectacular Sight," echoed one more exaggerated headline, this time from NBC News.
Only problem? Niagara Falls hasn't frozen over.
Tony Baldinelli, a senior manager at the Niagara Parks Commission, bluntly said the claim is not true in a Wednesday interview with the Niagara Falls Review.
"People are seeing these magnificent, beautiful images of the falls in the winter time with the tremendous amount of ice that is created and some are left with the impression that it has frozen over, but in fact it is not," Baldinelli said.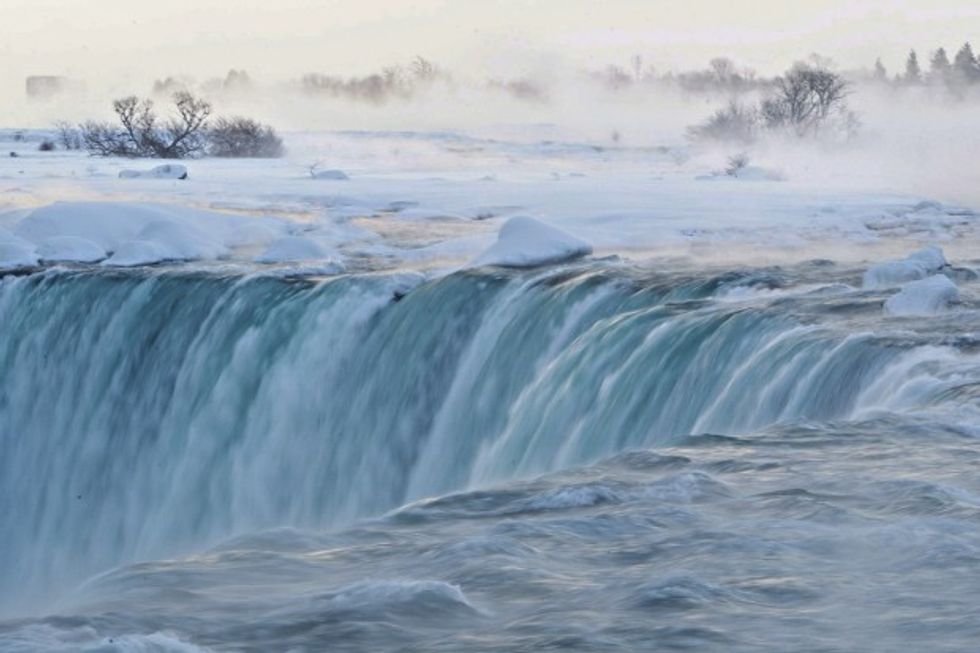 Pieces of ice flow over the Canadian 'Horseshoe' Falls in Niagara Falls, Ontario, Canada, Thursday, Feb. 19, 2015. (AP Photo/The Canadian Press,Aaron Lynett)
"The falls have not stopped, in the winter they go through a beautiful transformation," he added.
In fact, Instagram photos and video geo-tagged to the location of the falls clearly shows that water continues to flow.
Baldinelli told the Niagara Falls Review that he was only able to find one instance in history when water stopped flowing for approximately 30 hours. That was in 1848.
—
Follow Oliver Darcy (@oliverdarcy) on Twitter