A large group of Muslims made a powerful and symbolic gesture showing they want to protect Norway's Jewish community, gathering hand-in-hand Saturday to form a "ring of peace" around a synagogue.
Muslim youths organized the peace vigil in solidarity with the Jewish community following deadly shootings at a free speech event and at a synagogue last weekend in neighboring Denmark.
The English-language website the Local reported that more than 1,000 Muslims and Jews formed a symbolic, defensive ring around Oslo's main synagogue. Many of those who attended were teenage girls wearing headscarves.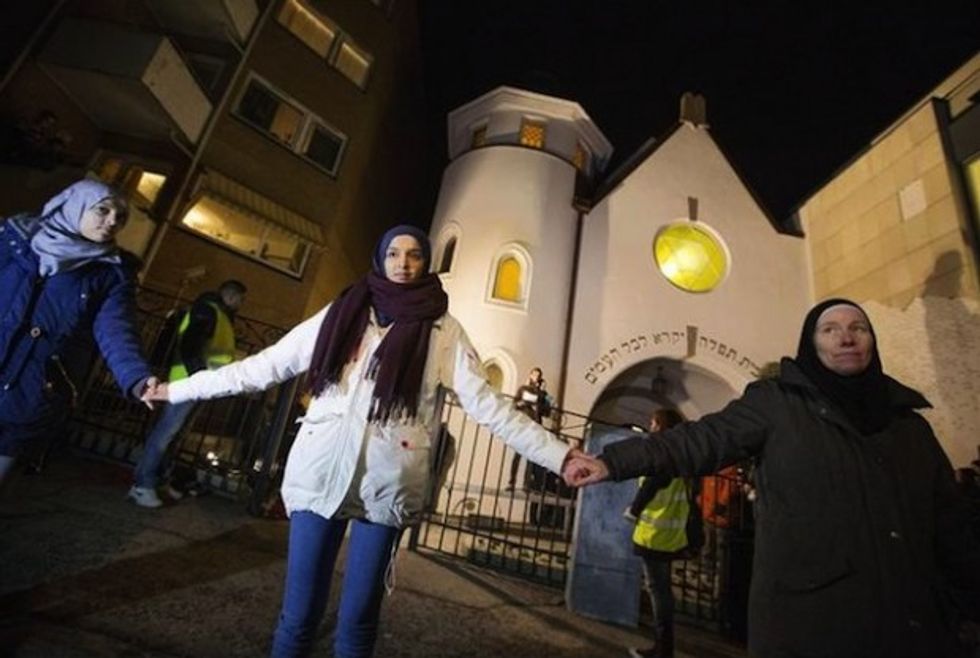 More than 1,000 people formed a "ring of peace" around the Norwegian capital's synagogue, an initiative taken by young Muslims in Norway after a series of attacks against Jews in Europe, in Oslo, Saturday, Feb. 21 2015. Norway's Chief Rabbi Michael Melchior sang the traditional Jewish end of Shabaat song outside the Oslo synagogue before a large crowd holding hands. (AP Photo/Hakon Mosvold Larsen / NTB Scanpix)
Video showed Jewish leaders chanting Sabbath prayers outside as the multifaith group holding hands looked on during the chilly night.
The Times of Israel quoted an advertisement for the event that read: "Islam is about protecting our brothers and sisters, regardless of which religion they belong to. ... Islam is about rising above hate and never sinking to the same level as the haters. Islam is about defending each other."
Zeeshan Abdullah, 37, one of the organizers told those gathered, "We want to demonstrate that Jews and Muslims do not hate each other."
"We do not want individuals to define what Islam is for the rest of us," he said, according to the Associated Press. "This shows that there are many more peace-mongers than warmongers."
"There is still hope for humanity, for peace and love across religious differences and background," he said.
Norwegian Jewish community leader Ervin Kohn said the demonstration against anti-Semitism "fills us with hope" especially because "it's a grassroots movement of young Muslims."
Reflecting the ongoing threats against European Jews, the Local reported there was a heavy police presence at the event, including sharpshooters positioned on surrounding buildings. The event ended without incident.
The Local quoted other Muslim speakers who said Islam was a religion of peace and that its "true face" was not terrorism.
Police named Omar Abdel Hamid El-Hussein, 22, a Danish citizen of Palestinian origin, as the shooter responsible for last Saturday's attacks, in which two men were killed, including one guarding a Copenhagen synagogue.