Last month, former Miami Dolphins player Rob Konrad talked about his harrowing 16-hour swim to safety after he fell off a boat in the Atlantic Ocean. Now, police video of Konrad shortly after he reached land helps confirm his story.
The 38-year-old fell off his fishing boat, which he had taken out alone on Jan. 8, and was unable to get back on because it was on autopilot. After a nearly 10-mile swim to the shore in Palm Beach, Florida, Konrad showed up at a local home and the police were called to help.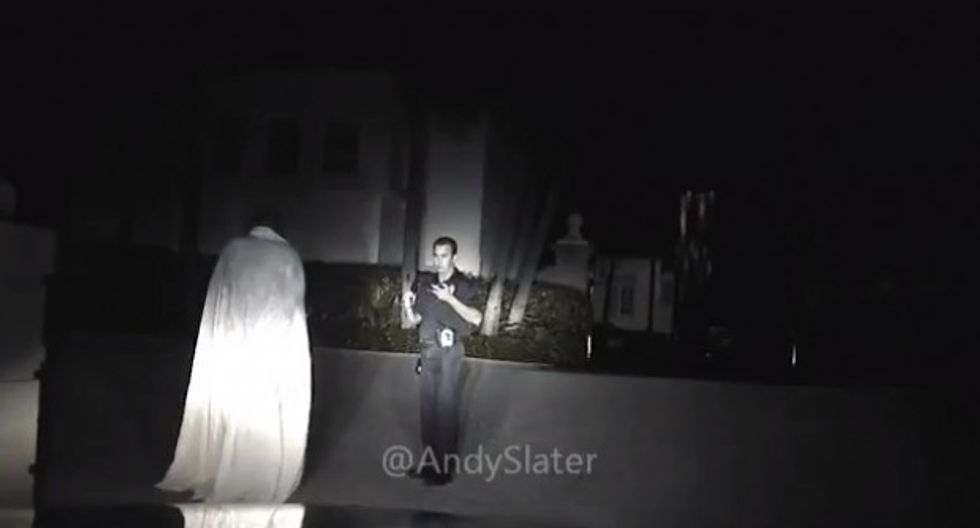 Rob Konrad is seen talking to a police officer after he swam for hours to the shore after falling off his fishing boat. (Image source: YouTube)
The video was first put up on Andy Slater's YouTube channel (Content warning: some strong language):
"About how far out were you?" the responding police officer asked in the video.
"About 10 miles," the retired NFL fullback said.
"You were about 10 miles out when you fell off?" the officer repeated in disbelief.
"Yeah, I've been swimming since 1:00 in the afternoon," said Konrad, who was wrapped in a blanket, his hair visibly wet. "What time is it right now?"
"It's almost five in the morning," the officer said.
"Shut the f*** up," Konrad said.
Konrad, after getting a bottle of water, asked the officer to call his family.
"I just want to let my family know that I'm alive," he said.
Watch WFOR-TV's report about the video:
Konrad suffered dehydration, hypothermia and muscle damage in the ordeal, according to the Miami Herald. His boat was found in the Bahamas with $70,000 worth of damage, according to WFOR.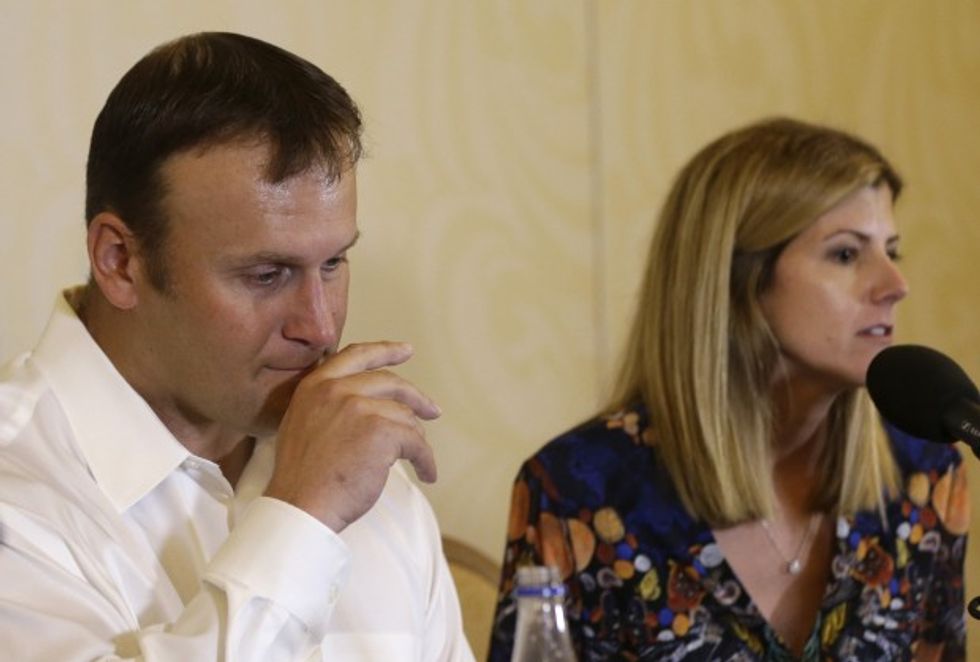 Former Miami Dolphins fullback Rob Konrad, left, listens while his wife Tammy, right, responds to a question during a news conference where he told about his ordeal of swimming nine miles to shore after he fell off his boat while fishing last week off the South Florida coast, Monday, Jan. 12, 2015, in Plantation, Fla. Konrad fell off his 36-foot-boat while fishing alone. The boat was on auto pilot and floated away. (AP/Lynne Sladky)
The Florida Fish and Wildlife Conservation Commission determined earlier this month that Konrad's story was valid after its investigation, the Herald reported.