There are a few things you might not know about music superstar and inaugural "American Idol" winner Kelly Clarkson. In an exclusive interview with Us Magazine, she shared 25 things "you might not know about her."
Number 24 was arguably the most interesting revelation: "I have a concealed handgun license."
With that, Clarkson likely made some new pro-gun fans.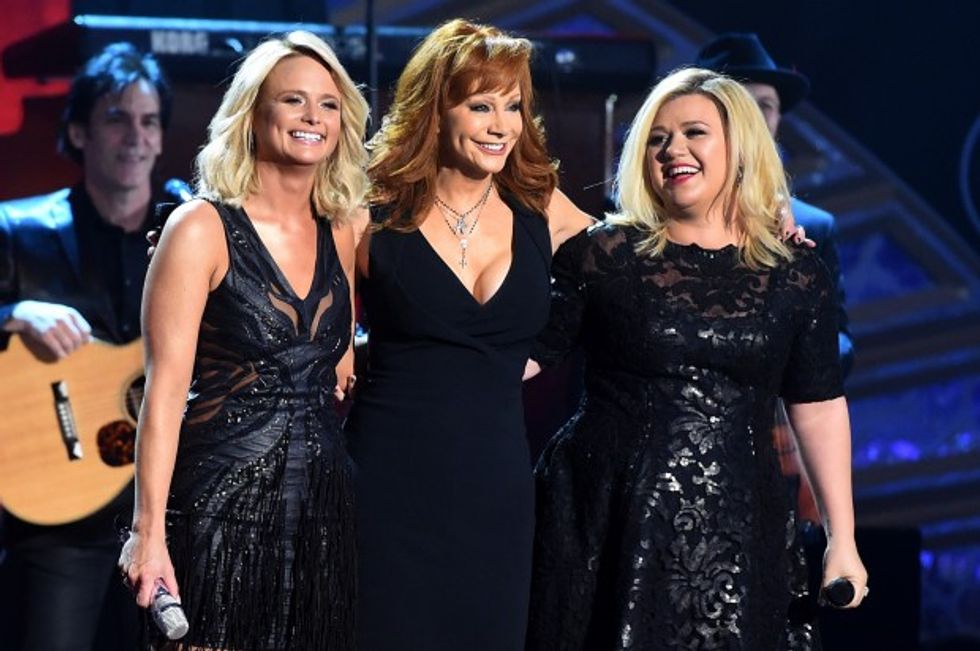 NASHVILLE, TN - DECEMBER 15: (L-R) Recording artist Miranda Lambert, honoree Reba McEntire and recording artist Kelly Clarkson perform onstage during the 2014 American Country Countdown Awards at Music City Center on December 15, 2014 in Nashville, Tennessee. (Credit
Jason Merritt/Getty Images for dcp)
Clarkson also revealed that she "cried for a solid hour on the phone with the creator of 'American Idol' and pleaded to be let out of the contract that said I had to film 'From Justin to Kelly,'" which was a poorly received 2003 film.
Some more interesting ones from the Us Magazine interview:
9. When I was pregnant with [8-month-old] River Rose and so sick, I'd get sucked into the vortex that is YouTube, watching clips of Ellen DeGeneres, Jimmy Fallon, and anything Meryl Streep–related.

14. I can still remember how peaceful I felt the very first time I saw my husband, [Brandon Blackstock], almost nine years ago.

[…]

19. I have a horse called The Unicorn because he is perfect and anyone can ride him.

20. Until I was 19, I thought the title of the song was "Secret Asian Man" instead of "Secret Agent Man."

[…]

22. Most of the time I love animals more than I love humans.
Read the full interview here.