Vice President Joe Biden benefits from "being in the mix" in the first in the nation primary state, one analyst told TheBlaze.
The vice president hit New Hampshire Wednesday, sounding off a few themes that could be popular in a Democratic primary, talking about the problems of big money at a time when presumed Democratic frontrunner Hillary Clinton is facing questions about high dollar donors to the Clinton Foundation.
"The simple truth is, we can't have a government that fights for the middle class if it's owned by the big money," Biden said Wednesday at his first stop in Concord, New Hampshire where he accepted the Warren B. Rudman Distinguished Public Service Award.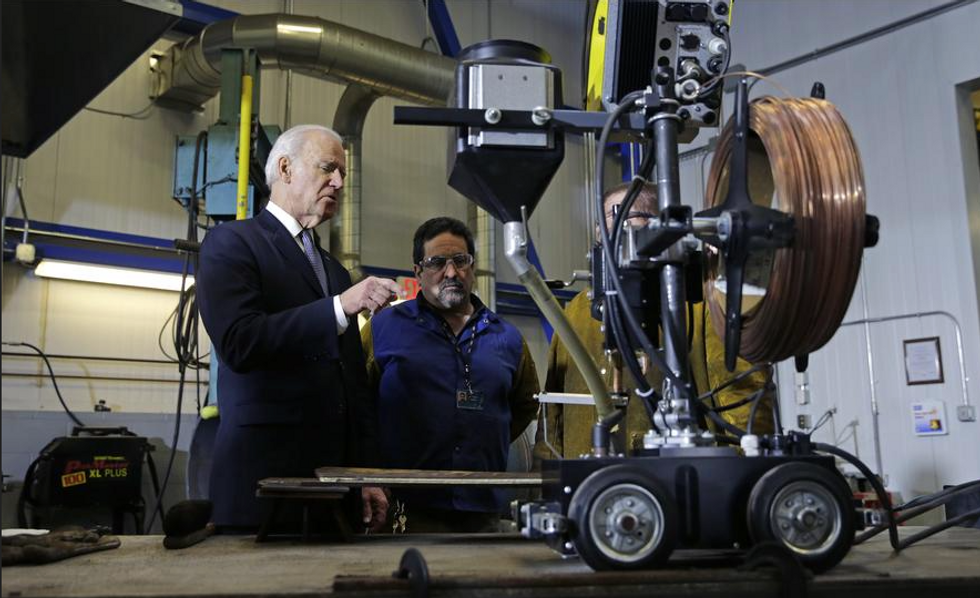 Vice President Joe Biden gestures during a visit to robotic welding shop at the Manchester Community College in Manchester, N.H., Wednesday, Feb. 25, 2015. Biden's visited New Hampshire, a state with an early Democratic presidential primary. He said he's weighing whether to run for the 2016 nomination and plans to decide by the end of summer. (AP Photo/Charles Krupa)
"I don't mean bribery. I really don't mean that, but it's awfully, awfully difficult to go to Wall Street and talk about tax cuts that help the middle class when they are the very guys whose interest is not to see that happen, and they are funding your campaign. It's not just Wall Street; labor, any group," Biden continues as he was fighting off a cold. "Going forward, we need a different way. We need leaders with the courage to stand up to this mountain of money. We need voters who will stand with these leaders willing to take it on. What we need to do is give our people a fighting chance, an opportunity."
"Fighting chance" is coincidentally the title of the book by Sen. Elizabeth Warren (D-Mass.), whom many on the left want to see challenge Clinton for the nomination. Warren has repeatedly said she won't run.
This month alone, Biden has traveled to Iowa, where the first presidential caucus will be held, and to South Carolina, where the first southern primary is held.
Biden is not doing well in most polls now, but that could change, said Andrew Smith, director of the University of New Hampshire Survey Center.
"Being in the mix is important for anyone thinking about running," Smith told TheBlaze. "You don't know what will happen. If Hillary does run, as it appears she will, it's likely she will win the nomination, but until she is in the race, you will see other people keep there names out in the press by showing up in New Hampshire."
Smith added that like previous vice presidents such as Al Gore and George H.W. Bush, it's not difficult to come to early states for official business.
"For Joe Biden, as vice president, it doesn't cost him anything to travel to New Hampshire, and should Hillary Clinton opt out, he would be ready to flip the switch," Smith added. "The Citizens United decision has made it easier that you don't have to have a massive campaign infrastructure in place to raise money."
However, Gary Rose, political science professor at Sacred Heart University, believes the lack of campaign fundraising will be a problem.
"He is seriously considering running, but polls aren't showing a lot of interest in Joe Biden," Rose told TheBlaze. "If he's serious about running, he would need a leadership PAC and a super PAC. He seems to be testing the waters and seeing if he could make a credible run. Ultimately, the Clinton machine is so formidable."
At Biden's second stop, speaking at Manchester Community College, he said the administration hoped to cover price tag of free community college by closing a tax loophole.
"It's expensive. It's about $8 billion a year for totally free community college across the nation. But guess what? We'll spend $221 billion over the next 10 years making sure people that make up less than four-tenths of 1 percent of the population are able to not have to pay capital gains," Biden said.
Biden then went on to explain that closing a loophole in inherited investment would only affect the wealthy, which the website FactCheck.org called misleading in a tweet, referring to a similar claim by President Barack Obama, pointing out that such a tax hike could affect more than just the highest earners.
"So the way we pay for this is, we pay for it by eliminating this tax loophole. It will cover this and a lot more," Biden said. "There are ways to pay for this. Not to punish anybody. Not class warfare all about growing the economy."
Meanwhile, analysts don't think Biden being gaffe prone will be a problem, at least not in the primary.
"It's been entertaining, but I don't think it will weigh heavily in a presidential campaign," Rose, of Sacred Heart University, said.
Smith, the University of New Hampshire pollster, said Democrats are accustomed to the gaffes.
"He was taken serious in 2007 and 2008 and he was making those gaffes. Democrats say that's just Joe being Joe. It's not going to hurt him in a primary, but in a general election, Republicans could use it against him," Biden said. "If he continues to put his hands on other people's wives, somebody might call him out, but most people just said it's Joe being Joe again."
Smith added that Biden at least has history on his side, since most sitting vice president have won their party's nomination.
"Public opinion closely associates him with the Obama administration," Smith said. "In the context of the anti-Hillary, he is not in the best position."