Law enforcement officers' jobs are tough – but so are the laws that hold them accountable to protect and serve.
In Michigan, for example, it is illegal for law enforcement agencies to impose quotas for officers: requiring they issue a certain number of tickets or arrests in a year's time. But a newly surfaced video from a Newaygo County Board of Commissioners meeting is raising eyebrows and has already resulted in the "internal discipline" of at least one officer after talk of "stipulations on the numbers."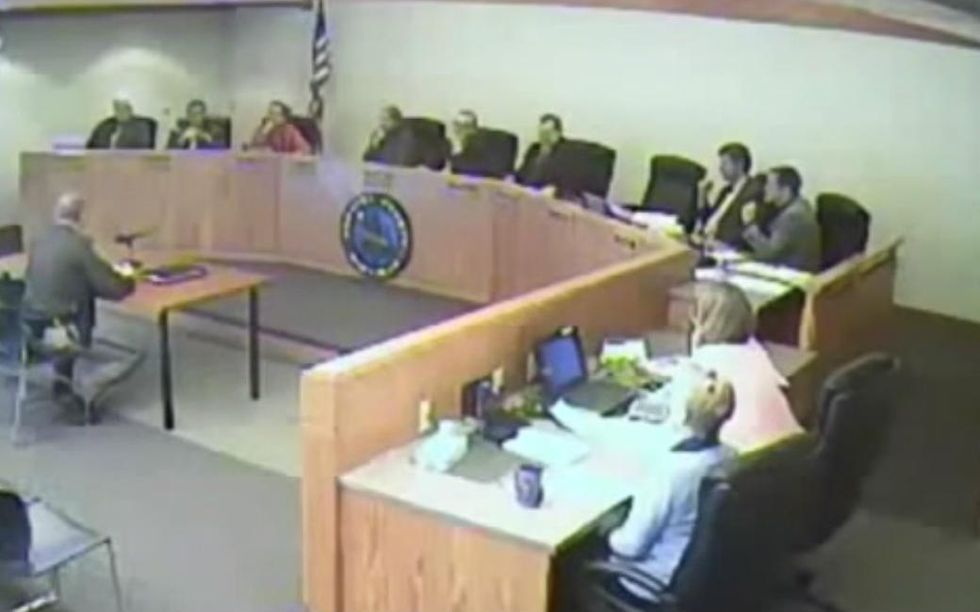 Image source: YouTube
"After watching the video I immediately took action and this employee was disciplined internally according to the progressive discipline protocol as outlined in his union contract and department policy," Sheriff Patrick Hedlund told WZZM-TV.
"The public should rest assured that if I discover any instance of 'quotas' or any other wrong doing, I will immediately forward the matter to an outside agency for criminal investigation," Hedlund added.
The footage shows a sheriff's deputy proposing to enact ticket quotas for officers, a clear violation of Michigan state law: "I'm a numbers guy so I know you're not allowed to do it by federal law and by state law. But I do put stipulations on the numbers I want to see by the end of their shift." The deputy goes on to say, "The guys that can't perform those numbers have been removed from all overtime for that particular grant, for the remainder of the year."
A voice vote is then taken, by which the proposal sounds to have the support of nearly every person in the room, despite laws that makes imposing quotas on officers illegal.
The video containing the comments in question appears to be missing from public domain on the county's website, although videos of the meetings are supposed to be made public, according to the Free Thought Project, a government and law enforcement watchdog group.
The Newaygo County Sheriff's Department did not immediately respond to TheBlaze when asked whether the video is publicly available somewhere else. The video was uploaded by the Free Thought Project, which says it obtained the footage "anonymously."
The Newaygo County Sheriff's Department did not immediately respond to TheBlaze on Tuesday.
(H/T: WZZM-TV)
–
Follow Jon Street (@JonStreet) on Twitter