The Obama administration is considering a set of dietary recommendations that says Americans need to change the way the eat in order to help protect the environment.
The recommendations were put forward by an advisory group comprised of academics from around the country, but their advice has prompted Republicans to complain that the group has lost its focus and is far exceeding its mandate.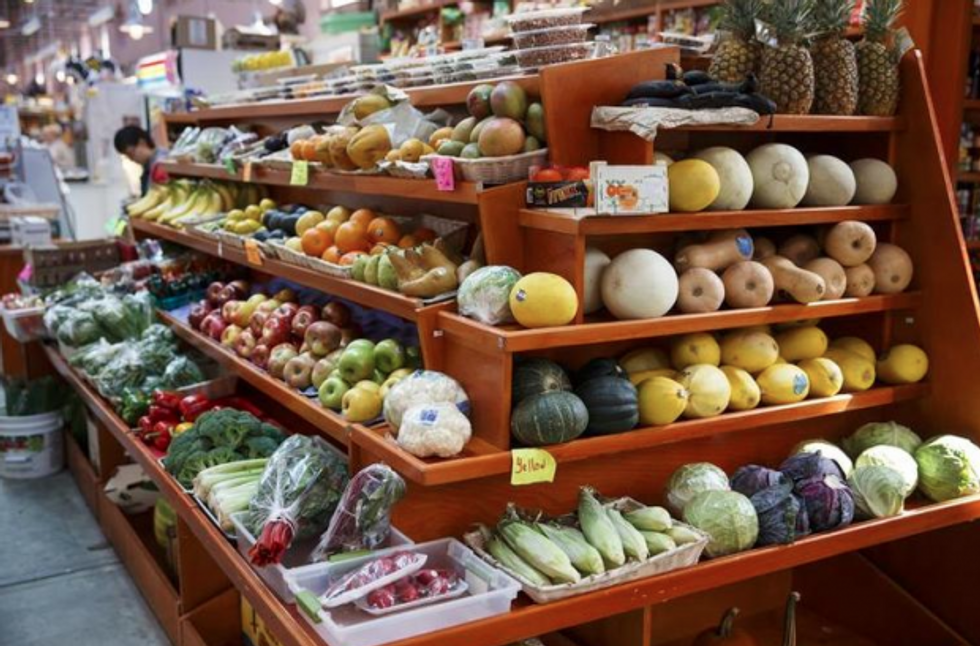 The Obama administration is considering dietary guidelines that call on people to eat lots of fruits, vegetables and other foods that are good for the environment. Image: AP Photo/J. Scott Applewhite
The Dietary Guidelines Advisory Committee submitted its recommendations to the Departments of Agriculture and Health and Human Services in late January. The government is taking comment on those recommendations through April 8.
The recommendations include an entire section on sustainable agriculture that says people should eat only those foods that are more sustainable to produce.
"Access to sufficient, nutritious, and safe food is an essential element of food security for the U.S. population," it said. "A sustainable diet ensures this access for both the current population and future generations."
"The major findings regarding sustainable diets were that a diet higher in plant-based foods, such as vegetables, fruits, whole grains, legumes, nuts, and seeds, and lower in calories and animal-based foods is more health promoting and is associated with less environmental impact than is the current U.S. diet," it added.
It suggested that Americans can eat this way by adjusting their diets to "the healthy U.S.-style pattern, the healthy Mediterranean-style pattern, and the healthy vegetarian pattern."
"All of these dietary patterns are aligned with lower environmental impacts and provide options that can be adopted by the U.S. population," it said. It also said the average U.S. diet has a "larger environmental impact" that those other diets.
The group also delved into tax policy, by suggesting that taxes can be used to create "healthy food environments."
"For example, earmark tax revenues from sugar-sweetened beverages, snack foods and desserts high in calories, added sugars, or sodium, and other less healthy foods for nutrition education initiatives and obesity prevention programs," it suggested. It also said higher taxes on sugar-containing foods "may encourage consumers to reduce consumption and revenues generated could support health promotion efforts."
Republicans on the House Agriculture Committee responded this week by saying these sorts of recommendations go far beyond its mandate.
"Members of the Dietary Guidelines Advisory Committee greatly exceeded their scope in developing recommendations," Agriculture Committee Chairman Mike Conaway (R-Texas) said Wednesday. "The secretaries share responsibility for these flawed recommendations because they failed to keep the committee focused on nutritional recommendations and away from areas such as sustainability and tax policy, which are outside of the committee's purview."
Along with other Republicans, Conaway wrote a letter to USDA and the HHS saying the academic group appears to have undergone an "unprecedented expansion" of its scope, and that the government needs to give industry groups a chance to make their case.
"[T]he comments being developed by stakeholder groups will likely include scientific studies and other evidence that observers assert had been ignored by the advisory committee and therefore expect that these comments will be fully reviewed and considered by your agencies as you develop your proposed dietary guidelines," he wrote. Specifically, the letter asked that the comment period be extended through late June.
Read their letter here: