Several House Democrats have introduced legislation that would create a Department of Peacebuilding, which would be tasked with promoting peace around the world and organizing occasional "Peace Days" that would be celebrated within the United States.
Supporters of the Department of Peacebuilding Act note that while the Constitution talks about tranquility and promoting the general welfare, more than 100 million people died in wars in the last century, and the U.S. and other nations are plagued by all sorts of violent conflict. Not only is this not peaceful, but it comes at a huge economic cost.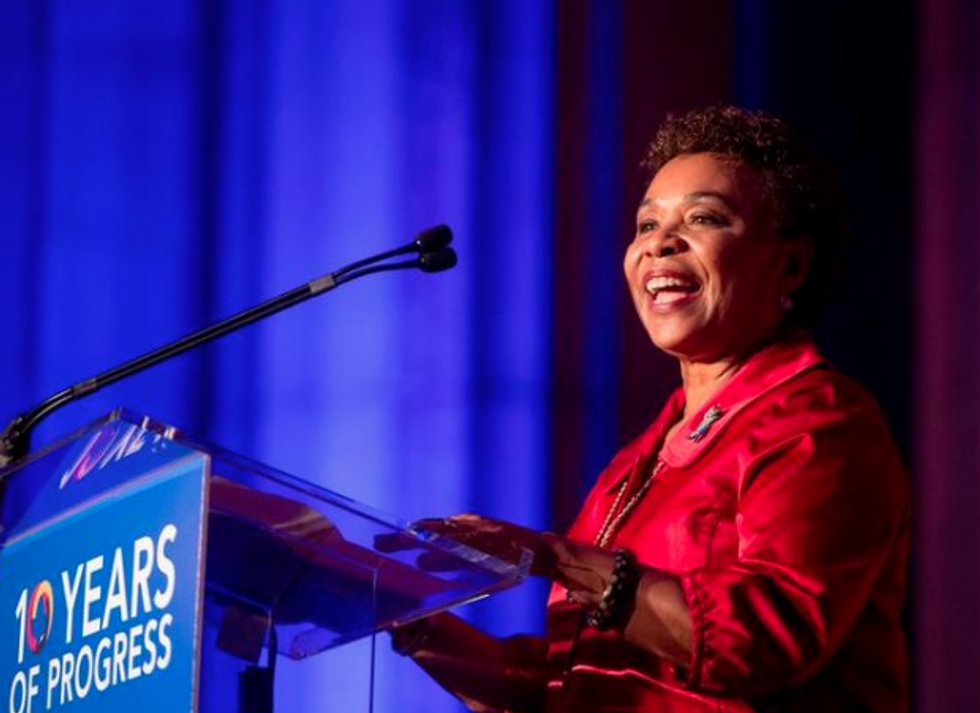 Rep. Barbara Lee (D-Calif.) has proposed a bill that would create a Department of Peacebuilding, which would be tasked with, among other things, organizing "Peace Days" around the country. (Allison Shelley/Getty Images for Friends of the Global Fight)
"Violence prevention is cost effective," the bill states. "For every dollar spent in violence prevention and peacebuilding, many lives and many dollars are saved."
As a result, the bill would set up a new department that would be "dedicated to peacebuilding, peacemaking, and the study and promotion of conditions conducive to both domestic and international peace and a culture of peace."
The secretary of peacebuilding's mission would be to "cultivate peace and peacebuilding as a strategic national policy objective." He or she would have to address both domestic and international violence by monitoring conflicts and recommending ways to end them, addressing family violence, violence against women, and reducing prison recidivism rates.
The bill would also require a study on how firearms are contributing to violence. It would have the department employ "successful, field-tested programs, and developing new approaches for dealing with the tools of violence, including handguns, especially among youth."
While that part of the bill is likely to irk many Republicans, the legislation also includes a section likely to irk some Democrats — it would call for a study of how violence in the media creates real-life violence.
More broadly, the bill appears to be an attempt to task a government agency with peacebuilding activities. It would create a Peace Academy, and even encourage the department to set out national "Peace Days" where people would celebrate peace.
"The secretary shall encourage citizens to observe and celebrate the blessings of peace and endeavor to create peace on Peace Days," the bill states. "Such days shall include discussions of the professional activities and the achievements in the lives of peacemakers."
The bill was introduced by Rep. Barbara Lee (D-Calif.), and is supported by nine other Democrats, most of whom are members of the Congressional Black Caucus.
The bill doesn't ask for a specific amount of money, and instead says the department would be funded by "such sums as may be necessary." The cost of even the smallest federal agencies often runs in the tens of billions of dollars.
Read the bill here: