© 2023 Blaze Media LLC. All rights reserved.
Avalanche!': A Skier Is Buried as Horrified Friends Watch. One Thing He Did Might Have Saved His Life.
"The best moment of my life was when I saw the tip of his helmet."
If he hadn't put his arm up as he was crushed, they might have never found him.
In late January, Australian James Mort was skiing in the Swiss Alps with a couple of friends when they found themselves trying to outrun an avalanche.
Just 19 seconds into the run, one of the skiers can be heard yelling, "Avalanche!"
In a few seconds, the fast-moving white wave caught Mort and buried him under approximately eight feet of snow.
Image: YouTube
Being swallowed by an avalanche is not like dropping to the ground and making snow angels in freshly fallen, powdery snow. People trapped under an avalanche are rarely able to move their arms or legs and oxygen is also in short supply.
Fortunately for everyone involved, as he was being covered, Mort thought to thrust his arm — holding a ski pole — over his head.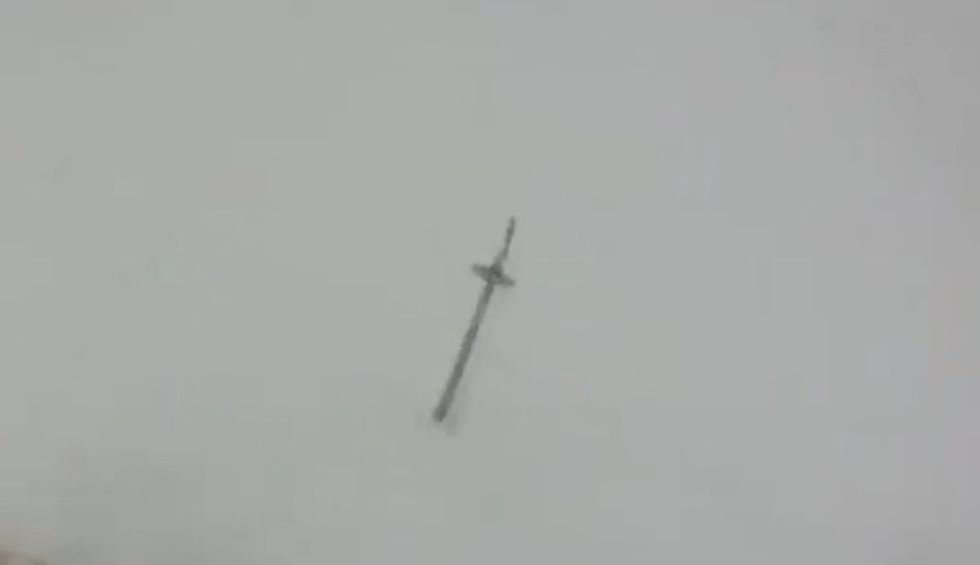 Image: YouTube
Mort's pals, Andrew Sebesfi and Daniel O'Sullivan immediately began looking for their missing friend.
Spotting the ski pole protruding from the snow, they removed their skis and started digging.
Image: YouTube
In an Associated Press interview, Mort described the experience as, "bizarrely emotionless." He calmly talked about being aware of the gravity of his situation, saying, "I had two thoughts in my head...'alright, if they don't find you, you're dead...if they do find you, hopefully you're alive.'"
Mort's friend, Daniel O'Sullivan recounted the moment his emergency shovel exposed a helmet, "The best moment of my life was when I saw the tip of his helmet." Adding, "Thank God we've bloody found him."
Because James' friends were carrying emergency shovels and probes, they were able to find him and dig him out of the snow. After the incident and the miraculous rescue, Mort posted his entire story online. It is his hope that others will learn the importance of being prepared for emergencies.
Watch the dramatic rescue.
You can watch the entire, uncut video, here.
__
Follow Mike Opelka (@Stuntbrain) on Twitter.
Want to leave a tip?
We answer to you. Help keep our content free of advertisers and big tech censorship by leaving a tip today.
more stories
Sign up for the Blaze newsletter
By signing up, you agree to our
Privacy Policy
and
Terms of Use
, and agree to receive content that may sometimes include advertisements. You may opt out at any time.