A spokesman for former Secretary of State Hillary Clinton now says that the personal emails from Clinton's personal server were at least "reviewed" before being deleted, an important clarification from the explanation that was offered last week.
Last week, Clinton explained that she deleted more than 30,000 emails that her team decided were "personal," and gave the government all the work-related emails she created on her personal email server.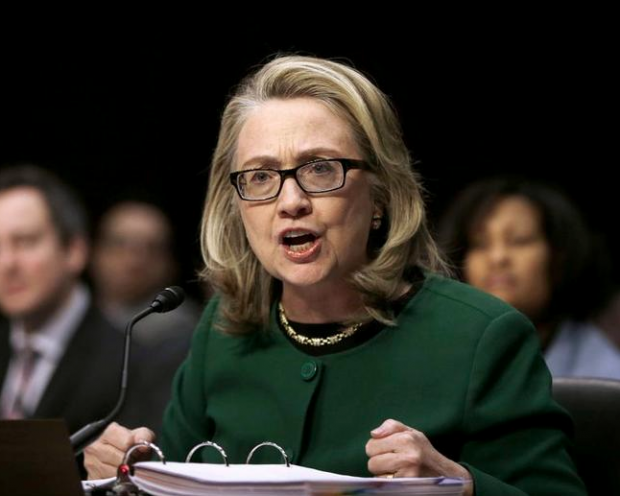 A spokesman for former Secretary of State Hillary Clinton clarified that every one of her personal emails from her personal server were reviewed before being deleted. Image: AP Photo/Pablo Martinez Monsivais
It was also reported that Clinton's team decided whether an email was personal by seeing if it showed up in a keyword search — for example, by searching for ".gov" or other terms related to her work at the State Department. Some said that was a sloppy approach, because it might have excluded some work-related messages that didn't happen to include those keywords.
Over the weekend, Clinton spokesman Nick Merrill said a keyword search was used, but clarified further that this process was used only after each email was "reviewed" individually.
"Every email was reviewed," Merrill said in an email, according to the Wall Street Journal. Merrill said a fact sheet handed out by Clinton's team showed examples of keyword searches, but failed to mention that these searches were an attempt to "double and triple check they were capturing everything."
"This was NOT in lieu of reading them all, [it] was in ADDITION to reading them all," he added. "We did not mean to imply otherwise."
"We simply took for granted that reading every single email came across as the most important, fundamental and exhaustive step that was performed," he added, according to Fox News. "The fact sheet should have been clearer in stating that every email was read."
If true, that clarification could go a long way toward assuring people that Clinton didn't simply eliminate tens of thousands of emails without looking more closely to see if any work-related information was included in them.
But it still leaves Clinton's team in the position of being the sole arbiter of whether an email should be made public, or whether it should be scrapped — a situation that seems unlikely to appease Republicans who are still investigating the 2012 attack in Benghazi and Clinton's reaction to that attack.
The State Department has said it would likely redact many of the emails it has from her that it plans to release in the coming weeks. Additionally, State said it may not release entire emails depending on the information they contain.
House Select Committee on Benghazi Trey Gowdy (R-S.C.) has subpoenaed Clinton's emails himself, and over the weekend, it was reported that House Speaker John Boehner (R-Ohio) may soon announce another House investigation into Clinton's use of emails. Boehner's spokespeople had no comment about that possibility for TheBlaze just before noon on Monday.