Actor Michael Douglas says he got a dose of European anti-Semitism when his teenage son Dylan was harassed at a swimming pool because his Star of David necklace identified him as being Jewish.
In an op-ed published in Sunday's Los Angeles Times, Douglas detailed the upsetting incident when he, his wife Catherine Zeta-Jones and their two children spent last summer at a European hotel.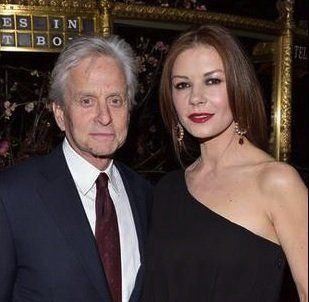 Michael Douglas and Catherine Zeta-Jones attend the Phoenix House Public Service Award Dinner, Jan. 29, 2015 in New York City. (Grant Lamos IV/Getty Images)
One day, his son came running back to the room from the pool, upset. Douglas wrote:
A man at the pool had started hurling insults at him.

My first instinct was to ask, "Were you misbehaving?"

"No," Dylan told me through his tears.

I stared at him. And suddenly I had an awful realization of what might have caused the man's outrage: Dylan was wearing a Star of David.

After calming him down, I went to the pool and asked the attendants to point out the man who had yelled at him. We talked. It was not a pleasant discussion. Afterward, I sat down with my son and said: "Dylan, you just had your first taste of anti-Semitism."
Though Douglas' father, actor Kirk Douglas, is Jewish, Michael Douglas wrote that had no religious upbringing and only reconnected with his father's faith once his own son Dylan became interested in studying Judaism.
"While some Jews believe that not having a Jewish mother makes me not Jewish, I have learned the hard way that those who hate do not make such fine distinctions," Douglas wrote.
The Academy Award-winning actor also recalled an earlier encounter with anti-Semitism in high school when a friend told him, "Michael, all Jews cheat in business."
Douglas detailed what he believes to be three causes for the surge in anti-Semitism: a bad economy; "an irrational and misplaced hatred of Israel"; and the "simple demographics" of 25 to 30 million Muslims now living in Europe, some "radicalized and driven with hatred."
"Anti-Semitism, I've seen, is like a disease that goes dormant, flaring up with the next political trigger," Douglas wrote.
"My son is strong. He is fortunate to live in a country where anti-Semitism is rare. But now he too has learned of the dangers that he as a Jew must face," Douglas wrote. "It's a lesson that I wish I didn't have to teach him, a lesson I hope he will never have to teach his children."
Israeli journalist Zvika Klein made waves last month when he walked all day around Paris with a hidden camera wearing a yarmulke and faced repeated and ugly demonstrations of anti-Semitism including insults and spitting from Muslim Parisians.
Douglas did not reveal in which country the hotel was located, noting only that it was in southern Europe.