A senior member of the Saudi royal family said Monday that whatever arrangement U.S.-led negotiators reach with Iran over its nuclear program, Saudi Arabia would want to enjoy the same benefits.
That, in turn, could deteriorate into a regional nuclear race, Prince Turki al-Faisal told the BBC.
"I've always said whatever comes out of these talks, we will want the same," said the prince, who previously served as Saudi Arabia's intelligence chief and as ambassador to the U.S.
"So if Iran has the ability to enrich uranium to whatever level, it's not just Saudi Arabia that's going to ask for that," Turki told the BBC.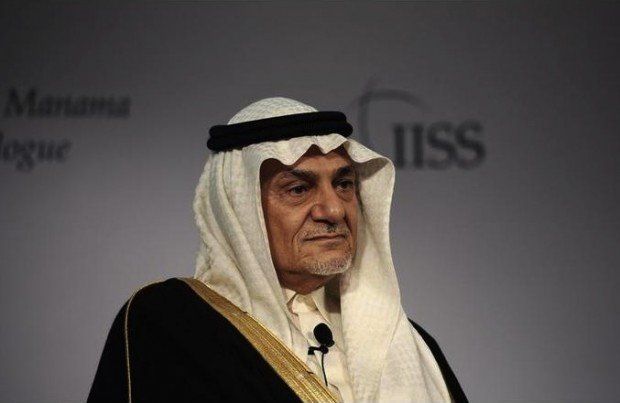 Prince Turki Al Faisal attends the 9th International Institute for Strategic Studies Regional Security Summit in the Bahraini capital Manama, Dec. 8, 2013. (Mohammed Al-Shaikh/AFP/Getty Images)
"The whole world will be an open door to go that route without any inhibition, and that's my main objection to this P5+1 [negotiation] process," he added.
Reuters noted that while Turki is no longer serving in government, "his comments are widely understood to reflect the thinking at senior levels of the Al Saud ruling family."
The BBC reported that Saudi Arabia last week signed a cooperation agreement with South Korea to study the possibility of building two nuclear plants in the Persian Gulf country.
The prince's warning came on the heels of editorials published in the Saudi media lambasting President Barack Obama and Secretary of State John Kerry over their "naivete" about the potential deleterious outcome of the deal currently being discussed with Iran, which according to reports would not demand an outright stop to its nuclear development.
Tariq Al-Homayed wrote in the London-based Saudi daily Al-Sharq Al-Awsat last week that Obama was "leading the entire region into real disaster."
"I believe that Netanyahu's conduct will serve our interests, the people of the Gulf, much more than the foolish behavior of one of the worst American presidents," Ahmad Al-Faraj wrote in the pro-government Saudi daily Al-Jazirah, offering rare Saudi praise for the Israeli prime minister.
Kerry was in Riyadh earlier this month to try to allay Saudi fears of the emerging nuclear deal with Iran.
Based on the prince's remarks, Kerry's mission did not succeed in placating the Persian Gulf kingdom which is also concerned about the spread of Iranian influence in neighboring states.
"Iran is already a disruptive player in various scenes in the Arab world, whether it's Yemen, Syria, Iraq, Palestine or Bahrain," Turki said. "So ending fear of developing weapons of mass destruction is not going to be the end of the troubles we're having with Iran."