After having called the letter signed by 47 Republican senators to the leaders of Iran "unprecedented," White House press secretary Josh Earnest nevertheless dismissed past examples of members of Congress intervening in foreign policy.
Earnest said Tuesday "it doesn't matter" if the previous examples are relevant, but rather the principle that Congress shouldn't interfere with the president's conducting of foreign negotiations.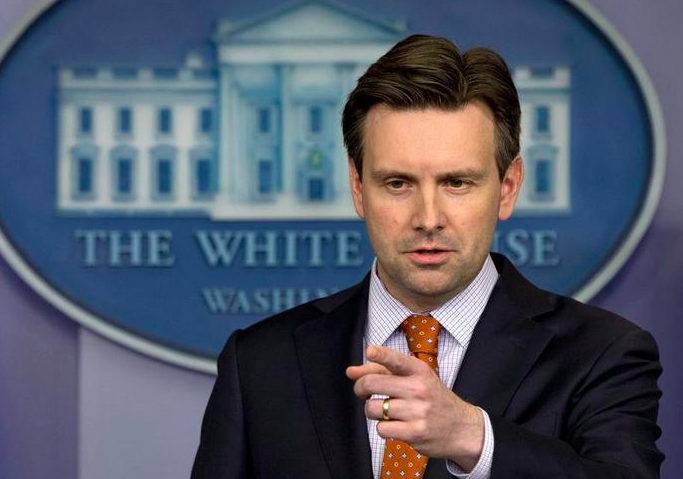 AP Photo/Jacquelyn Martin
Other members of the administration, including President Barack Obama, have also described the letter – which warned that a nuclear agreement with Iran could be undone by the next U.S. president – as unprecedented.
But as has been widely reported, there are multiple past examples of members of Congress — many of them Democrats — taking similar interventions, including a 2007 visit from then-House Speaker Nancy Pelosi to Syrian President Bashar Assad, against the wishes of the Bush administration.
"I am not steeped in the details of those previous engagements that have been described by some as a precedent for the letter written by 47 Republican senators," Earnest said. "I will say that it's telling that those who are scrambling to explain and defend their signatures on the letter have to go back decades, and in one case it sounds like eight decades, to try to find a precedent. I think that might be one indication they might be a little bit defensive."
Earnest was referring to the 1939 effort by Rep. Hamilton Fish (R-N.Y.) to reach out to improve U.S. relations with Germany, and a 1984 letter from House Democrats to Nicaraguan leader Daniel Noriega opposing the Reagan administration policies.
"I think that's understandable given the kind of bipartisan criticism they have received. As it relates to those specific matters, I'm not steeped in the details, but I guess my point would be, it doesn't matter how relevant those previous examples are," Earnest said. "What matters is that there is a clear principle at stake. I do think it's true that anytime you have 47 senators from the same party that are writing a letter to one of the chief adversaries of the United States, it's probably not a good idea and probably is doing more to serve the interest of the party than it is to serve the country."
Last week, Earnest called the letter, spearheaded by Sen. Tom Cotton (R-Ark.) "not just unprecedented, but inappropriate." In an interview with Vice, Obama called the letter "close to unprecedented," and on Sunday, Secretary of State John Kerry deemed it "unconstitutional."
Other examples of members of Congress intervening in foreign policy include Sen. Ted Kennedy (D-Mass.), who in 1983 communicated with Soviet leaders to undermine the Reagan administration negotiations.
In 1985, then-freshman Sen. John Kerry traveled to Nicaragua to reach a deal with communist Sandinistas.
And in 2002, Democratic Reps. David Bonior, Jim McDermott and Mike Thompson flew to Baghdad to meet with dictator Saddam Hussein in the lead up to the Bush administration's invasion of Iraq.