A rape survivor made a compelling case in favor of reforming Maryland's "may issue" concealed carry laws during a Senate committee hearing last week, explaining to lawmakers why women need to be able to defend themselves.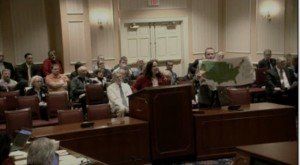 Screengrab via mgahouse.maryland.gov
"I need you to know this is so incredibly difficult for me, but I feel like if I don't humanize this, if I don't make it clear how this legislation actually affects your daughters, your mothers, the women of this state, then it's all just a bunch of numbers," Jacqueline Kahn told Maryland lawmakers.
Kahn then claimed that a man was arrested in her backyard. He was in possession of duct tape and scissors, she said.
"I wish I could tell you that's the only time I've been stalked, or that's the only man who has stalked anyone in the state of Maryland. But there's a huge number of women, who like me have been raped, who like me have been sexually assaulted — and we want the right to be able to do what we would be allowed to do throughout the majority of the rest of the United States," she said.
Kahn then pulled out a map of the United States showing which states allow concealed carry without restrictive "may issue" provisions, which state that self-defense is not a good enough reason to receive a permit.
"See all the green states? They actually follow this thing called the Second Amendment," she added.
Kahn told lawmakers that she enjoys going to "secluded places" in the wilderness and mountains, and she feels defenseless being unarmed because of the law. She recalled a different incident where she woke up to a man entering the tent she was sleeping in.
"Why can't I have a firearm to protect myself?!" she said, slamming her hand on the podium. "Are you going to be in my neighborhood the next time this guy follows me home?"
She continued: "When I'm in my house, I'm allowed to protect myself. But walking along the sidewalk, I'm not. So you make me into a criminal. You force me to decide, do I want to be judged by 12 or carried by six."
Lawmakers are currently discussing a bill that would add "self defense" as an acceptable reason to need a concealed handgun permit.
Watch Kahn's testimony below:
----