Some media outlets have been asking: Why hasn't President Barack Obama congratulated Prime Minister Benjamin Netanyahu on his sweeping win in legislative elections?
The answer might be found partly in Israel's cumbersome parliamentary election system rather than solely in Obama's strained relations with the Israeli leader set to serve his fourth term.
White House deputy senior adviser for communications and strategy David Simas on Wednesday congratulated the "Israeli people" in an interview with CNN, but did not address his good wishes specifically to Netanyahu.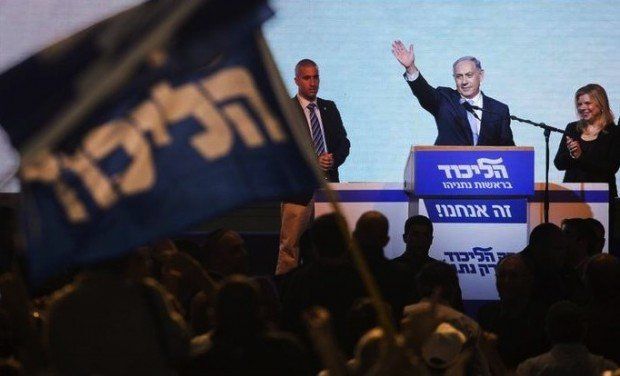 Israeli Prime Minister Benjamin Netanyahu greets supporters at the party's election headquarters in Tel Aviv, Wednesday, March 18, 2015. (AP Photo/Dan Balilty)
"We want to congratulate the Israeli people for the democratic process, for the election that they just engaged in with all the parties that engaged in that election," Simas told CNN's "New Day."
"As you know, now the hard work of coalition building begins. Sometimes that takes a couple of weeks, and we're going to give space to the formation of that coalition government, and we're not going to weigh in one way or another, except to say that the United States and Israel have an historic and close relationship, and that will continue going forward," Simas added.
Obama took nearly a week to congratulate Netanyahu after his last win in 2013.
While he won a solid victory over his left-wing rival, Netanyahu is not technically the leader of the new government and may not be officially declared that for days or weeks.
Under Israeli legislative election rules, the politician in the best position to recruit a majority of 61 members of Knesset to support his coalition government gets first dibs from Israel's president to try to cobble together a government. After President Reuven Rivlin taps the leader to form a government, he has 28 days plus a possible extension of two weeks to present his coalition.
The nearly completed official paper ballot count showed Netanyahu's Likud party securing 29 or 30 seats in contrast with 24 for the left-wing Zionist Union.
Smaller parties that are Netanyahu's natural ideological partners also had a good enough showing to allow the incumbent prime minister to form a solid right-wing coalition along with the help of at least one centrist party focused on tackling the severe economic challenges of Israel's middle class.
The coalition-building process usually involves those smaller parties that Netanyahu needs putting forth exorbitant demands for ministerial and parliamentary positions. Netanyahu will then have to haggle them down to fall in line with the demands of the other coalition partners as well as members of his own Likud. All the while he will need to make certain coalition partners remain committed to the ideological outlines guiding the government.
The last government provided a good example of how ideological differences can bring down a coalition. Though elected for four years, the last multi-party government fell apart after only two years.
Still, while Obama did not immediately congratulate Netanyahu, at least three other leaders did, including Canadian Prime Minister Stephen Harper, British Prime Minister David Cameron and Indian Prime Minister Narendra Modi. The Indian leader tweeted congratulations both in English and Hebrew.
I congratulate PM Netanyahu on his election results. We look fwd to working w/ the gov't once formed. Israel has no greater friend than Cda.

— Stephen Harper (@pmharper) March 18, 2015
PM: Congratulations to @netanyahu on election result. As one of #Israel's firmest friends, UK looks forward to working with new government.

— UK Prime Minister (@Number10gov) March 18, 2015
Congratulations my friend Bibi @netanyahu! Recall our New York meeting last September warmly.

— Narendra Modi (@narendramodi) March 18, 2015
Netanyahu said after he cast his ballot Tuesday that Obama would be one of his first three phone calls should he be re-elected. The first two calls would go to an Israeli mother who lost two sons in battle and to a right-wing coalition partner.
Obama came up, though subtly, when Netanyahu's rival Zionist Union party leader Isaac Herzog voted.
"The choices are between change and hope, to despair and disappointment," Herzog said, evoking Obama's "hope and change" campaign slogan.
UPDATE 1:00 p.m. ET:
CBS's Mark Knoller reports a congratulations could come soon:
On AF-1, @PressSec says Pres Obama has not yet phoned congrats to Netanyahu - but will in the coming days. Says @JohnKerry has phoned him.

— Mark Knoller (@markknoller) March 18, 2015