A fight at a Florida high school caught on camera left a parent "shocked and appalled" and three students suspended as of Thursday for their involvement.
The incident happened at Miami Northwestern Senior High School between one male and two female students. It is unclear what exactly caused the fight, but video of the brawl shows a male first hitting a female in the head after some words were exchanged. When this girl struck back, another female teen got involved and violently hit the first girl while the boy held her arms behind her back.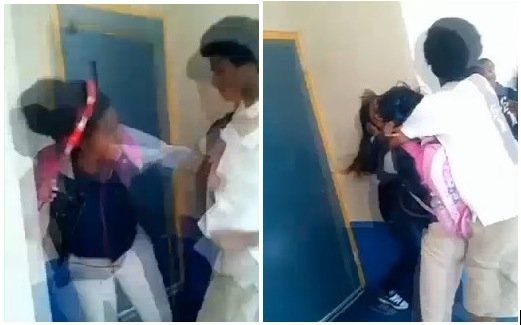 Screencaptures from the video show a male teen hit a female. When she hit back, another female got involved while the male held the first girl's arms behind her back. (Image source: WSNV-TV)
"I was in shock. I didn't think they was going to hit me. I just thought they would just keep talking. I could've ignored them," Charlese Stallworth told WSVN-TV.
Watch the footage in WSVN's report:
Stallworth's mother, Mandoisa Romer, said she first learned of the video when someone told her Stallworth was on social media "being jumped."
"I'm shocked and appalled," Romer told the news station. "I couldn't believe it happened. I didn't believe it happened until I saw it on social media."
The mother of the 16-year-old added that she thinks teachers could have stopped the fight before it started if they had stepped in when they saw a crowd of teens gathering in the hallway.
"My message is: as soon as you see a bunch — a gathering of kids — they need to intervene," Romer told WSVN. "They didn't do it fast enough."