A shoplifting incident in Mobile, Alabama, this week escalated to a point that one witness called it "the craziest thing I've ever seen."
Brannan Lynn told WALA-TV he was going to Walmart for lunch when he witnessed a struggle between store employees and an apparent shoplifter. Seeing that the employees seemed to have the situation under control, Lynn began filming the scene with his cellphone, but it only got more intense from there.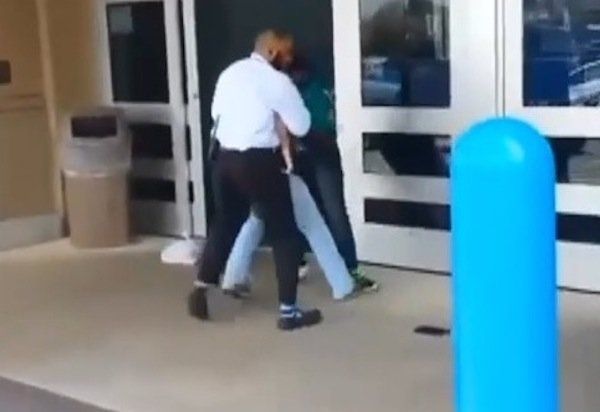 Image source: WALA-TV
"This dude just tried to steal some shoes from Walmart," Lynn said in the video, according to the news station. "He's in the security room. He busted, he climbed into the ceiling, and he is in the ceiling escaping. This is wow. Oh my God, this is awesome. Oh my God. The dude busted up in the ceiling. This is the craziest thing I've ever seen."
The suspect dangled from the ceiling for a few moments before he dropped to the floor and took off running again.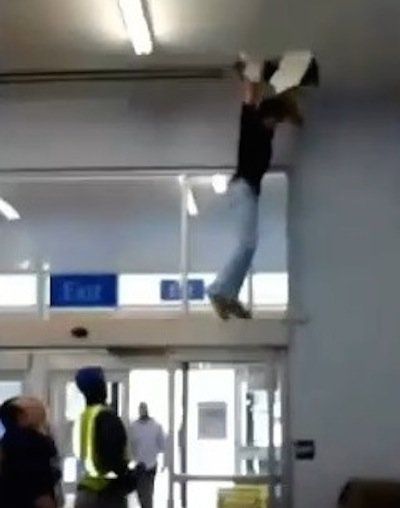 Image source: WKRG-TV
According to WALA, the male suspect made off in a red car and remains at large.
WKRG-TV reported that the suspect stole clothes and his escape antics earned him the nickname Spiderman from employees.
Watch WKRG's report, which captures the moment the suspect stomped through the ceiling: