There's an initiative in the works in California that would impose the death penalty for homosexual acts — and the state's attorney general might not be able to keep it off the ballot.
An activist waves a rainbow flag (Photo: Wojtek Radwanski/AFP/Getty Images)
The "Sodomite Suppression Act," proposed by Huntington Beach, California, attorney Matt McLaughlin in February, is testing the Golden State's ballot initiative process.
Despite the fact that California's death penalty was declared unconstitutional last year and social tides have rapidly shifted on gay issues, McLaughlin's blunt bill — which would order that "any person who willingly touches another person of the same gender for purposes of sexual gratification be put to death by bullets to the head" — could wind up on the November 2016 ballot, all because McLaughlin paid his $200 fee.
Election lawyer Tom Hiltachk told the Sacramento Bee that California Attorney General Kamala Harris has no authority to keep McLaughlin's proposal off the ballot.
"While you might say that this initiative is 'clearly' illegal (and I would agree), the notion of what is or is not 'clearly' illegal is not always so cut and dried," Hiltachk wrote in an email.
UC Davis law professor Vikram Amar had a similar assessment.
"This one drips of evil, so the instinct is to say 'Well, there's got to be a way to avoid wasting everybody's time,' " he told the Bee. "But in the law we often have limitations that are built not for the easy cases but because we are worried about the hard cases."
Besides the death penalty for "the abominable crime against nature known as buggery," McLaughlin's proposal also calls for million-dollar fines for those who distribute "sodomistic propaganda" and barring gays from public office.
Of course, McLaughlin's proposal still has to get 365,880 signatures to qualify for the ballot, and even then it seems unlikely it would pass.
KFOR-TV noted that the state's LGBT Caucus is calling for a review of McLaughlin, arguing that he's violating an attorney's responsibility to act in "good moral character," but David Cameron Carr, who spent 12 years at the State Bar disciplining lawyers and 14 years defending them, said it's unlikely McLaughlin would be booted from the legal profession over the proposal.
"This is not obviously the kind of act of moral turpitude that calls into question his fitness to practice law," Carr told the Bee. 
Read the full proposed "Sodomite Suppression Act" below.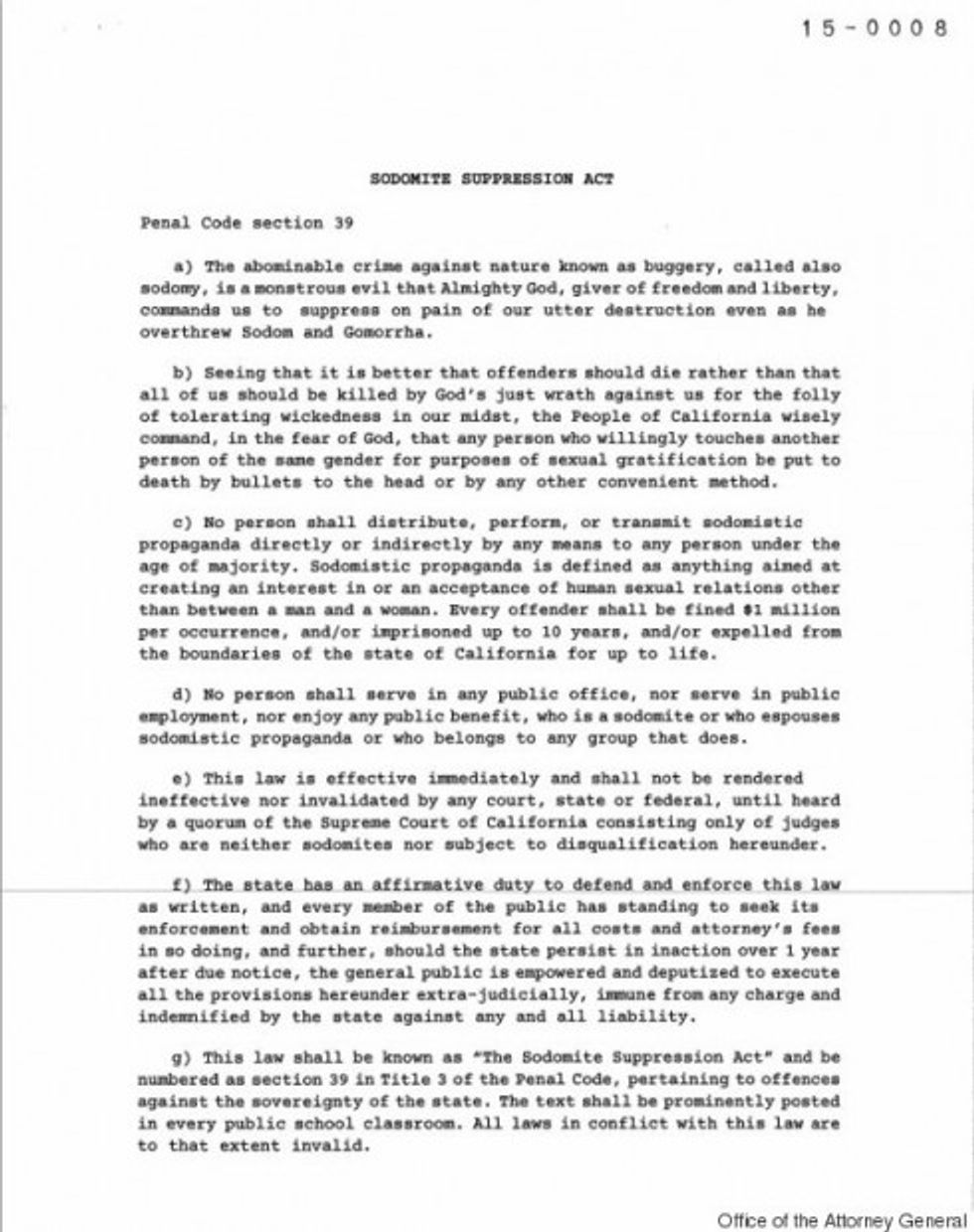 Image via California Office of the Attorney General
—
Follow Zach Noble (@thezachnoble) on Twitter