President Barack Obama has made clear he is not accepting Israeli Prime Minister Benjamin Netanyahu's latest assertions clarifying statements he made during his election campaign in which Netanyahu dismissed the idea of a Palestinian state being established under his watch.
In his first public comments about Netanyahu since the Israeli leader's victory, Obama told the Huffington Post, "[G]iven his statements prior to the election, it is going to be hard to find a path where people are seriously believing that negotiations are possible."
Asked if there is reason to believe Netanyahu is serious about a Palestinian state, Obama said, "We take him at his word when he said that it wouldn't happen during his prime ministership, and so that's why we've got to evaluate what other options are available to make sure that we don't see a chaotic situation in the region."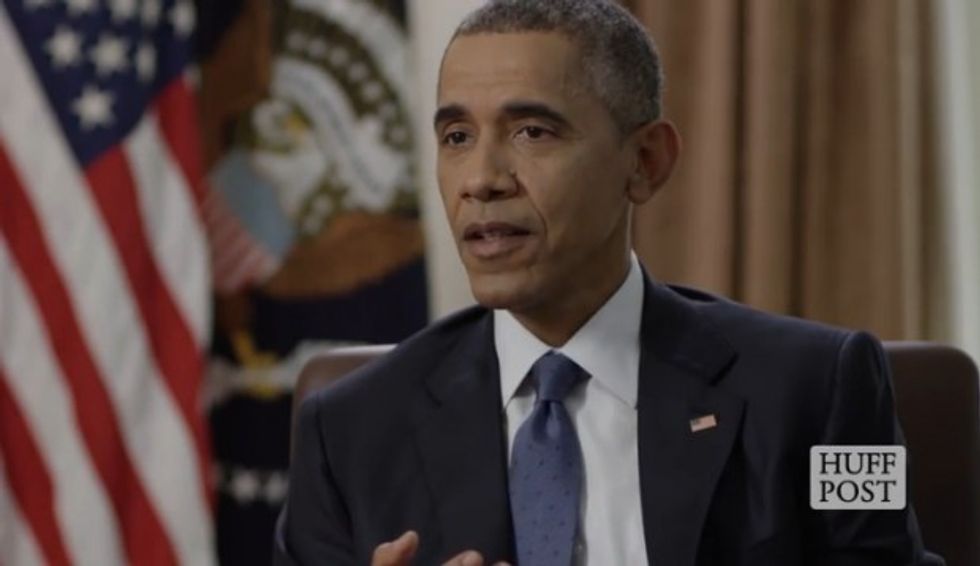 Screenshot: Huffington Post
Unnamed administration officials told multiple U.S. media outlets last week that the Obama administration was considering withdrawing from its traditional role as a shield to anti-Israel resolutions at the U.N. Security Council and might even support a U.N. resolution calling for a solution to the Israel-Palestinian conflict based on 1967 borders, which multiple Israeli officials have said would severely endanger Israel's security.
The Obama interview was conducted Friday, a day after the president called Netanyahu to congratulate him on his Likud party's election. Israeli government officials told Israeli media outlets that the 30-minute telephone conversation was "bitter."
According to the unnamed sources, Obama asserted in the call that he did not believe Netanyahu supports a two-state solution and suggested the U.S. would not necessarily always support Israel at the U.N.
The Times of Israel quoted Israel's Channel 10 which reported that Obama left Netanyahu with "the impression that he intends to abandon Israel at the U.N."
Israel's Channel 2 reported that contrary to administration statements, the White House has been considering reevaluating its traditional support for Israel at the U.N. for at least four months, not in response to Netanyahu's comments last week.
Obama told the Huffington Post, "I did indicate to him that we continue to believe that a two-state solution is the only way for the long-term security of Israel, if it wants to stay both a Jewish state and democratic."
The president said regardless of disagreements, military and intelligence cooperation between the countries would continue.
"But we are going to continue to insist that, from our point of view, the status quo is unsustainable. And that while taking into complete account Israel's security, we can't just in perpetuity maintain the status quo, expand settlements. That's not a recipe for stability in the region," Obama added.
Obama rebuked Netanyahu over his election day appeal to his supporters to get to the polls, because foreign-funded left-wing organizations were busing Arab citizens to vote. The Arab-Israeli minority votes overwhelmingly for left-wing parties.
"We indicated that that kind of rhetoric was contrary to what is the best of Israel's traditions," the president told the Huffington Post. "That although Israel was founded based on the historic Jewish homeland and the need to have a Jewish homeland, Israeli democracy has been premised on everybody in the country being treated equally and fairly. And I think that that is what's best about Israeli democracy. If that is lost, then I think that not only does it give ammunition to folks who don't believe in a Jewish state, but it also I think starts to erode the meaning of democracy in the country."
On Iran, Obama acknowledged that the Shiite nation's leaders have made "vile comments, anti-Semitic comments, comments about the destruction of Israel."
"It is precisely for that reason that even before I became president, I said Iran could not have a nuclear weapon," Obama said.
Obama told the Huffington Post he hoped to get an Iran deal completed "in a matter of weeks, not months."
"I don't want a one-state solution," Netanyahu told MSNBC following the elections. "I want a sustainable, peaceful two-state solution."
However, he also cautioned that "circumstances have to change" for a Palestinian state to be viable.
"[E]very territory that is vacated today in the Middle East is taken up by Islamist forces," he said. "We want that to change so we can realize a vision of real, sustained peace."