President Barack Obama talked about what he called a "21st century budget" and recognized the Congress had a role to play.
"Now, that's my budget," Obama said after rattling off several agenda items in his fiscal year 2016 budget proposal that included infrastructure funding and free community college.
"I recognize there's something called Congress here and there are going to be some negotiations taking place," Obama continued. "So far, Republicans in Congress have put forward a different kind of budget, but I'm confident that we can find a way forward."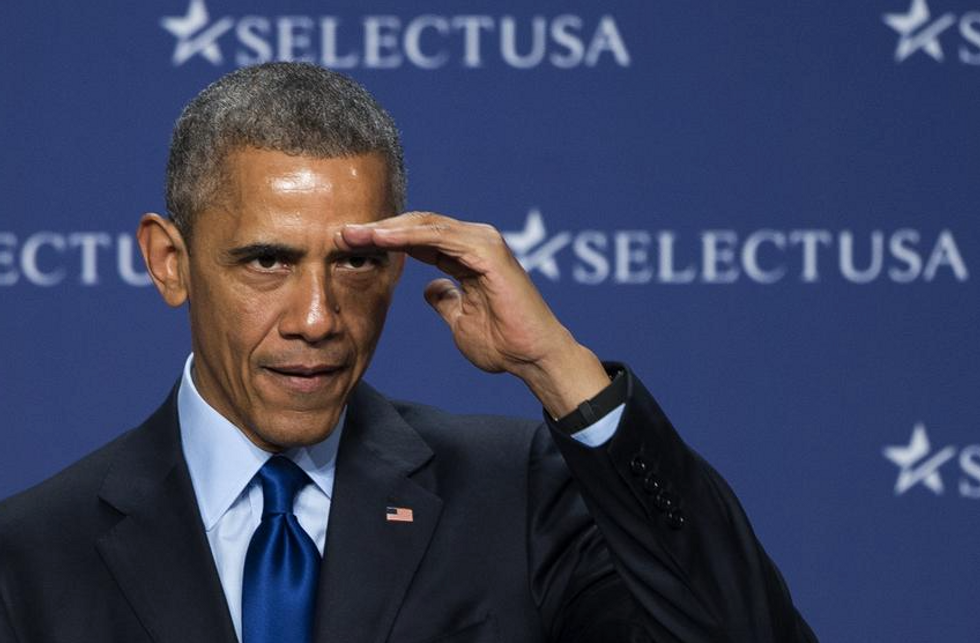 President Barack Obama looks into the audience while speaking at the SelectUSA Investment Summit, hosted by the Commerce Department, Monday, March 23, 2015, in National Harbor, Md. (AP Photo/Cliff Owen)
The president's critics have often accused him of acting too often without Congress on matters such as immigration, gun restrictions, health care and other matters.
House Republicans introduced a budget last week that would balance in 10 years, but the White House said it is filled with accounting gimmicks. The Obama administration budget proposal never balances the budget.
Obama spoke Monday at the Select USA Investment Summit in National Harbor, Md. He promoted Select USA is an initiative that seeks to attract international investment to the United States.
"I put forward a budget for this coming fiscal year that reflects the realities of the new economy," Obama said. "We're going to give workers and businesses the tools they need to succeed in a fast-paced, highly competitive, constantly changing world and that means new investments in education, new investments in job training, including making two years of community college free, because we want to make sure that our workers continue to be prepared to fill the jobs that you intend to bring here. It means new investments in manufacturing, and 21st century infrastructure that 21st century businesses need."
At the investment summit, Obama announced a new initiative for the federal government to partner with state economic development agencies to promote foreign investments. He also said there would be visa changes to make it easier for businesses.
"My administration is going to reform the L-1B visa category, which allows corporations to temporarily move workers from a foreign office to a U.S. office in a faster, simpler way and this could benefit hundreds of thousands of nonimmigrant workers and their employers; that, in turn, will benefit our entire economy and spur additional investment," Obama said.
Obama added that an immigration reform bill, which would grant legal status to some 11 million illegal immigrants, should be passed.
"Of course, as all of you know, one of the things that would make America even more attractive to businesses and that would grow our economy and shrink our deficits, and keep this country safer, stronger, and smarter, would be a comprehensive immigration reform package, and that's why I'm going to continue to push and prod and poke and cajole friends in the Republican party to get on board and help us get this done," Obama said.