The House sent an unmistakable message to President Barack Obama Monday night — send defensive weapons to Ukraine, and send them now.
Congress passed legislation in December authorizing Obama to give Ukraine defensive weapons to protect itself from the ongoing invasion of its country by Russia. But Obama has dithered, and has essentially done nothing other than sending Ukraine about $60 million in non-lethal aid.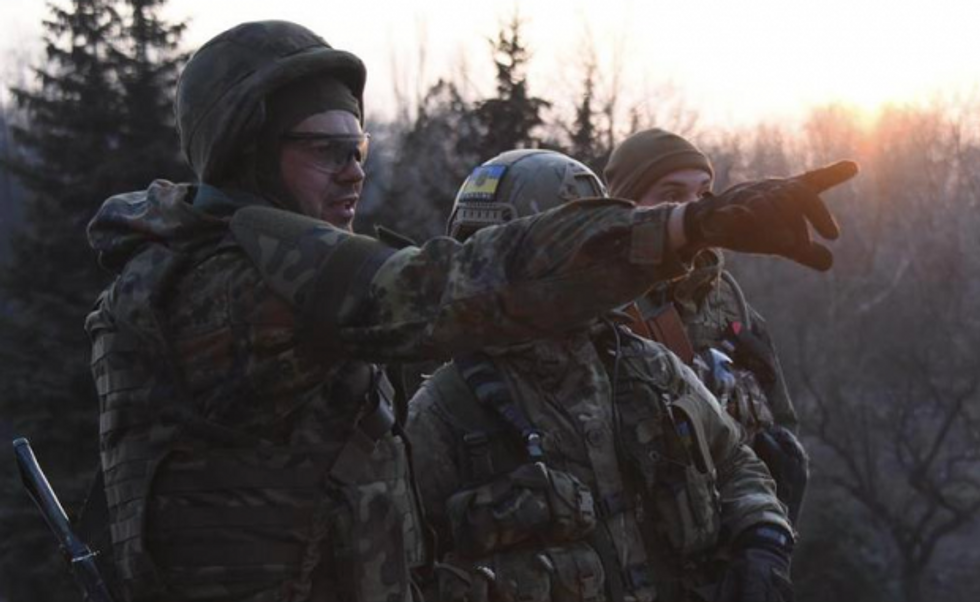 Fighters of the Azov Battalion observe enemy lines from the roof of their base in the town of Shyrokyne, eastern Ukraine. President Barack Obama is allowed to send Ukraine defensive weapons, but he hasn't, to the frustration of Republicans and Democrats in Congress. Image: AP Photo/Mstyslav Chernov
Just last week, for example, senior officials admitted that they are still considering whether to send lethal defensive weapons, and haven't made any decisions on whether to help train Ukrainian troops. More immediately, the Obama administration has watched for more than a month as Russia violates a ceasefire in Ukraine, and seems mostly to be hoping things get better — there are no signs the administration is about to pursue tougher sanctions against Russia at this point.
On Monday night, the House had enough, and passed a Democratic resolution calling on Obama to implement last year's law by sending Ukraine munitions before it's too late. Rep. Eliot Engel (D-N.Y.), who sponsored the resolution, warned that failing to act against Russia would put all of Europe on a course similar to what it experienced during World War II.
"We cannot view the crisis in Ukraine as just some faraway conflict or someone else's problem," he said. "This war has left thousands of dead, tens of thousands wounded, a million displaced, and has begun to threaten the post-Cold War stability of Europe."
"This war poses the greatest threat to European security since World War II, and we shouldn't take it lightly, and we shouldn't be idle, and we shouldn't sit back, and we shouldn't let other countries tell us what to do," he said.
Engel was joined by Rep. Ileana Ros-Lehtinen (R-Fla.), who lamented that Obama has "chosen inaction in the guise of endless deliberation."
But Democrats sounded just as tough on Obama as the Republicans did. Rep. David Scott (D-Ga.) said the U.S. simply must act to save Ukraine from Russian President Vladimir Putin.
"There are some times, in my view, you've just got to stand up to the bully," Scott said. "The United States must stand up to Putin, and let him know that there's a light in this world, and the United States is going to show the way."
The House passed the resolution 348-48 — only 10 Republicans voted against it, and the rest of the "no" votes were from Democrats. The resolution makes several findings that Russia is illegally intruding on Ukraine's sovereignty, and says Obama should move quickly to help defend the embattled country.
"The House of Representatives strongly urges the president to fully and immediately exercise the authorities provided by Congress to provide Ukraine with lethal defensive weapon systems to enhance the ability of the people of Ukraine to defend their sovereign territory from the unprovoked and continuing aggression of the Russian Federation," it reads.
But despite the overwhelming vote, it's not clear whether Obama will act any time soon to help Ukraine. A decision to do nothing would seem to fit in with Obama's general preference of relying on negotiations for all issues, regardless of whether it's on Ukraine, Iran or elsewhere in the Middle East, despite growing criticism that this tactic is not working.
Last year, Ukrainian President Petro Poroshenko spoke to Congress, and warned that the blankets the U.S. was sending were not enough to win the war.
"Blankets, night-vision goggles are also important," he said. "But one cannot win the war with blankets. Even more, we cannot keep the peace with a blanket."