© 2023 Blaze Media LLC. All rights reserved.
Harry Reid, Senior DHS Official Implicated in Scheme to Approve Visas for Non-Qualified Foreigners
"...special access or consideration..."
The number two official at the Department of Homeland Security on Tuesday was accused of creating an appearance of "favoritism and special access" in decisions on whether to grant visas to certain foreigners — including in one case pushed by Senate Minority Leader Harry Reid (D-Nev.) and his staff — according to a report released by the DHS Office of Inspector General.
The OIG report said Deputy DHS Secretary Alejandro Mayorkas took extraordinary steps in three cases to help these non-citizens win green cards, under a program that gives people access to these cards if they invest $500,000 in the United States. That program hands out so-called EB-5 visas, but it has been under scrutiny for the last several months for possible abuse.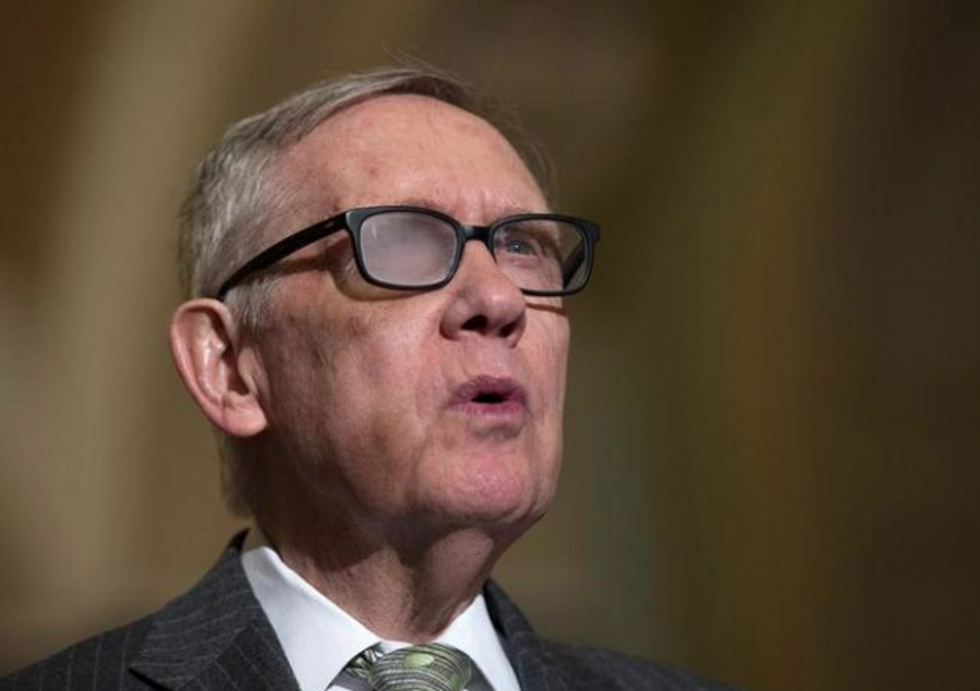 Senate Minority Leader Harry Reid (D-Nev.) is among several well-known Democrats who were involved in a scheme to get green cards to favored investors. Image: AP Photo/Molly Riley
Specifically, reports surfaced that the program was being used to get visas to foreigners who were not qualified, but couldn't get visas any other way.
Today's OIG report confirmed some of those suspicions. It said that when Mayorkas was the director of U.S. Citizenship and Immigration Services, he went too far by intervening in decisions to grant visas in three specific cases that otherwise would have gone the other way.
"In three matters pending before USCIS, Mr. Mayorkas, now deputy secretary of DHS, communicated with stakeholders on substantive issues outside of the normal adjudicatory process, and intervened with the career USCIS staff in ways that benefited the stakeholders," the report said. "Mr. Mayorkas' conduct led many USCIS employees to reasonably believe that specific individuals or groups were being given special access or consideration in the EB-5 program."
The report stressed that these actions were confirmed by "an extraordinary number of DHS employees."
One of those cases involved an investor in a Las Vegas hotel and casino in Reid's home state of Nevada.
"At the request of Senate Majority Leader Harry Reid, Mr. Mayorkas intervened to allow expedited review of investor petitions involved in funding a Las Vegas hotel and casino, notwithstanding the career staff's original decision not to do so," OIG said. "The career staff noted that the purported urgency was of the applicant's own making and that the decision to expedite fell outside EB-5 program guidelines."
"Nevertheless, Mr. Mayorkas pressured staff to expedite the review," it added. "He also took the extraordinary step of requiring staff to brief Senator Reid's staff on a weekly basis for several months."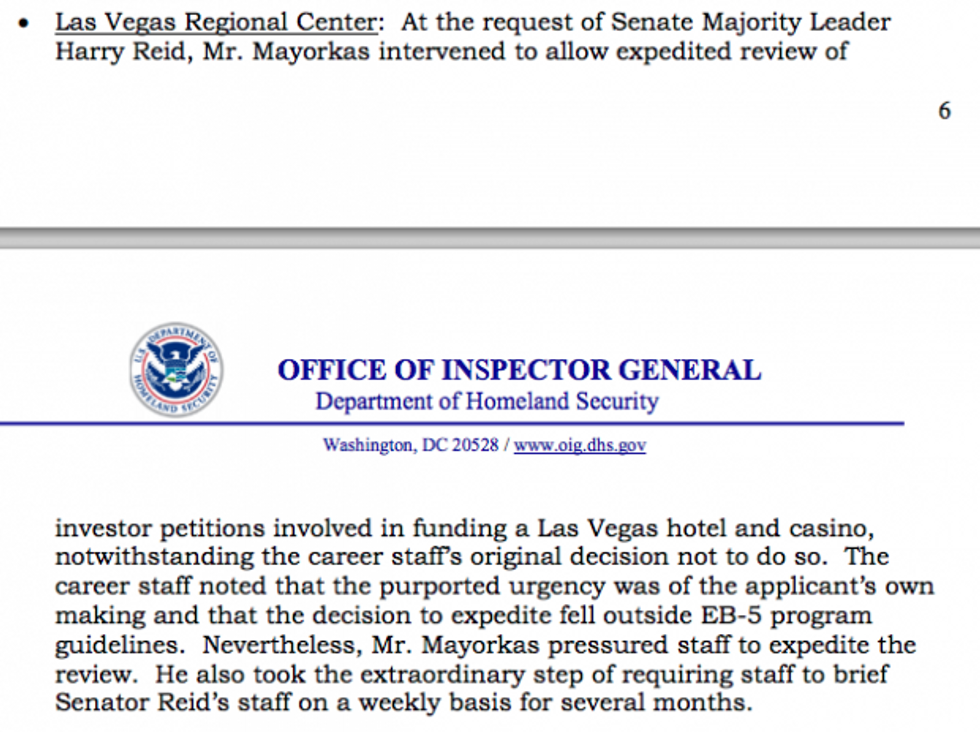 Image: DHS OIG report
It cited two others examples, one in Los Angeles, and one related to an investment in an electric car company for which now Virginia Gov. Terry McAuliffe (D) was the board chairman. That same deal also had the involvement of Anthony Rodham, Hillary Clinton's brother.
OIG said that while Mayorkas did recuse himself from some decisions, his involvement in these three cases created the perception of favoritism.
"Mr. Mayorkas' actions in these matters created a perception within the EB-5 program that certain individuals had special access and would receive special consideration," it said. "It also lowered the morale of those involved."
Mayorkas responded to the OIG report by saying he disagrees with it, but said he would "certainly learn from it and from this process." He also said the EB-5 process was "broken" when he took it over, and said he did his best to improve it, but he didn't address the specific charges in the OIG report, other than to say he approves of a new effort at DHS to ensure the program is "free from the reality or perception of improper outside influence."
DHS Secretary Jeh Johnson defended Mayorkas as "an exceptionally conscientious, honest and patriotic public official," and indicated there would be no punishment.
"I continue to have full confidence in Ali Mayorkas," he said. "He is doing an outstanding job as Deputy Secretary."
While DHS seems unwilling to take any further steps, the Republican-led Congress may feel differently. Back in February, a key Senate Republican said he would consider reforms to the EB-5 program in light of those reports.
The report is likely to lead to further distrust of the Obama administration's handling of immigration. Republicans have already accused the Obama administration of pursuing immigration reform in order to favor certain companies, and more broadly, to help Democrats win elections.
Want to leave a tip?
We answer to you. Help keep our content free of advertisers and big tech censorship by leaving a tip today.
more stories
Sign up for the Blaze newsletter
By signing up, you agree to our
Privacy Policy
and
Terms of Use
, and agree to receive content that may sometimes include advertisements. You may opt out at any time.