The former neighborhood watchman acquitted in the 2012 shooting death of unarmed black minor Trayvon Martin lashed out at President Barack Obama in a new video posted online late Monday. 
"I feel that now is the perfect time to speak my mind without fear of retaliation by the president, the attorney general, the federal government et cetera," George Zimmerman, 31, said before laying into Obama in the 13-minute interview conducted by his lawyer Howard Iken.
— Click here to watch the interview —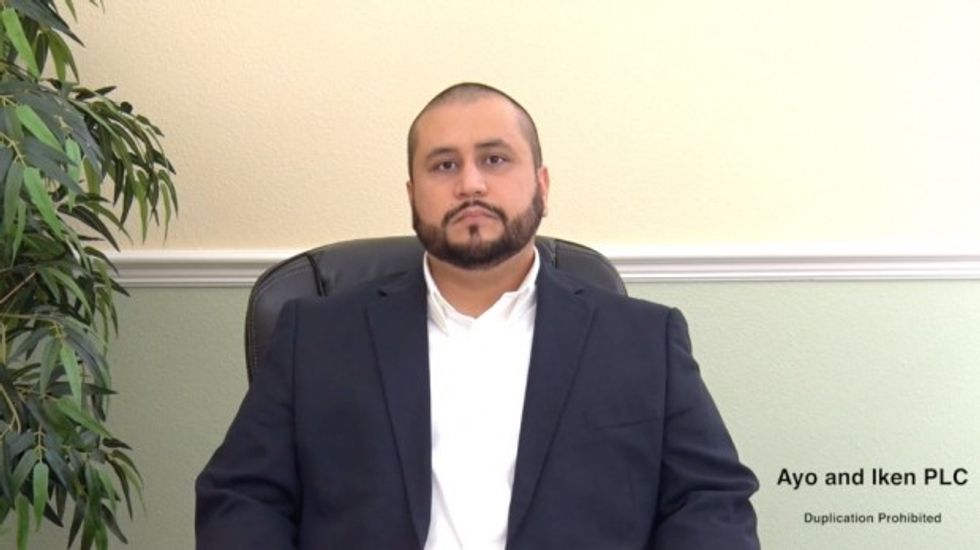 Image source: Screen grab via Vimeo
The 31-year-old pointed at Obama when asked to name an official or government agency who brought the "highest level of unfairness" to his situation.
"By far, the president of the United States, Barack Hussein Obama," Zimmerman said. "He had the most authority and in that sense I would hold him in the highest regard believing that he would hold that position and do his absolute hardest to not inflame racial tensions in America."
"Unfortunately after even after Jay Carney, his press secretary stated in the White House briefing that the White House will not interject in a local law enforcement matter and at most a state criminal matter, President Obama held his Rose Garden speech stating if I had a son he would look like Trayvon," he continued. "To me that was clearly a dereliction of duty pitting Americans against each other solely based on race."
"He took what should have been a clear-cut self-defense matter and still to this day on the anniversary of incident he held a ceremony at the White House inviting the Martin-Fulton family and stating that they should take the day to reflect upon the fact that all children's lives matter," Zimmerman added. "Unfortunately for the president I'm also my parent's child and my life matters as well. And for him to make incendiary comments as he did and direct the Department of Justice to pursue a baseless prosecution he by far overstretched, overreached, even broke the law in certain aspects to where you have an innocent American being prosecuted by the federal government which should never happen."
Zimmerman said that he felt "throughout the process" Obama should have not interjected himself into a local law enforcement incident.
"Instead of rushing to judgment, making racially charged comments and pitting American against American. I believe that he should of taken the higher road given his position and said, been an example, been a leader as the president should be and say lets not rush to judgment," the 31-year-old said.
In the interview posted on his lawyer's website, Zimmerman said that he feels no guilt for the way things turned out.
"[W]ith me as a Christian I believe that God does everything for a purpose, and he had his plans and for me to second guess them would be hypocritical and almost blasphemous," he said, adding that if he "had a fraction of the thought that I could have done something differently, acted differently so that both of us who survived then I would have heavier weight on my shoulders."
The interview was published on a page on Iken's website titled, "An Interview With George Zimmerman."
—
Follow Oliver Darcy (@oliverdarcy) on Twitter