A Texas man says he's never seen or spoken to the child that he has paid child support to for the last 13 years, despite a paternity test that proved he isn't her father.
According to KHOU-TV, Willie Carson of Houston has fought the issue in court for a decade after he was wrongly named as the father on the child's birth certificate. During that time, he told the news station, he watched his paycheck go to the mother of the child that wasn't his.
"There were days that I didn't eat. I went without electricity," he told KHOU.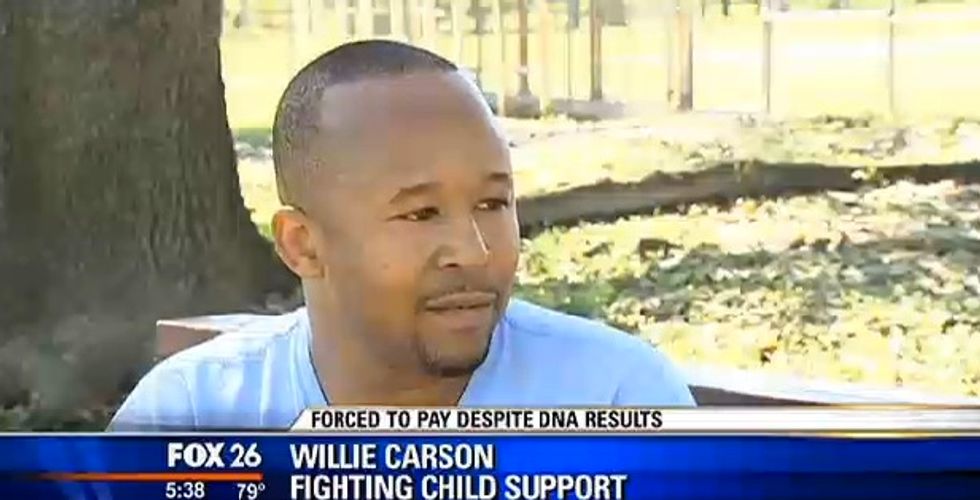 Willie Carson hopes he will finally be relieved of the child support the state says he still owes, despite a DNA test that proved the child in question was not his. (Image source: KHOU-TV)
At this point, Carson is $21,000 behind, but he hopes that a judge will finally rule in his favor after the girl's mother sent a letter to the court.
"I never gave up," Carson said, adding that he's hopeful the situation will be brought to a close, but a judge has "the last say so" on Monday.
Watch KHOU's report:
If this whole scenario sounds familiar, it's because a Michigan man was put in a similar situation last year and was fighting back against the $30,000 the state said he owed despite the child not being his.
As KHOU pointed out, the issue "happens so often," it's also included on the Texas attorney general's list of frequently asked questions.
"What if a man believes he is not the father of a child for whom a court has previously ordered him to pay child support?" the question on the FAQ states. "The 82nd Texas Legislature amended the Texas Family Code to allow courts to terminate the parent-child relationship and the duty to pay child support in circumstances of mistaken paternity. Men who meet the requirements of the law may seek court-ordered genetic testing. If testing excludes a man as the child's biological father, the court may terminate the parent-child relationship and the duty to pay future child support. The man is still responsible for arrears that accrued up to the termination date, as well as for interest that accrues after the termination date. [TFC § 161.005(c)-(o)]"
It's the "still responsible for arrears" bit from which Carson hopes to be relieved.
(H/T: Daily Mail)