A now-viral photo of kids playing on the Vietnam Women's Memorial in Washington, D.C., has sparked a ton of outrage from those who said the children behaved disrespectfully — but also pushback from other commenters who disagreed with that sentiment.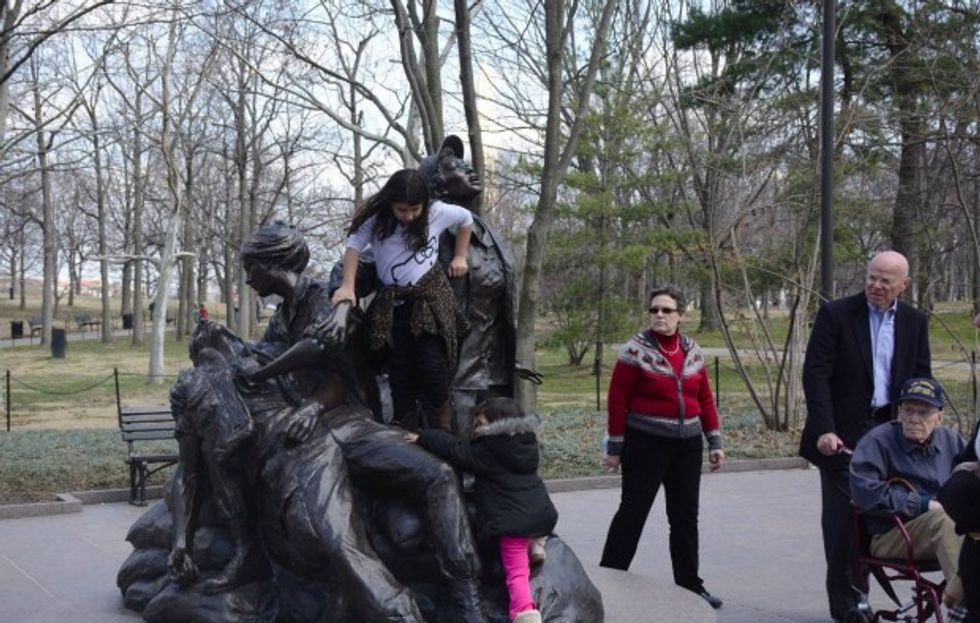 Image via Matthew Munson/Facebook
The photo was taken by artist Matthew Munson, who posted it — along with others he took of sites in the nation's capital — to his Facebook page Tuesday, calling the image "a very powerful one of two little brats climbing over war memorial right in front of a veteran. It was a sobering moment."
The memorial is dedicated to women, primarily nurses, who served in the Vietnam War. In response to the furor, the Vietnam Veterans Memorial Fund posted on Facebook late Wednesday: "Please remember to be respectful to memorials honoring and remembering our nation's veterans. We hope our visitors understand this moving forward."
Munson told WTTG-TV that the girls' parents encouraged them "to get on for pictures."
"The parents were laughing while trying to get their kids to pose," Munson added on Reddit. "There was a crowd of tourists forming around the parents just glaring at them. It was all pretty brutal to watch."
It appears most of those upset about the photo are angry at the adults who were with them: "Shame on the parents," Jill Kin wrote. "They have no respect for our veterans so they are teaching their kids the same lack of respect. It is a monument not a jungle gym ... I am a veteran and I am very outraged by this performance."
"I did 13 months as a Marine in Viet Nam," Robert Skwaryk noted. "I'm not bothered by the kids being kids, but by the ignorant parents; I blame our schools for not teaching the Viet Nam War in history class. There is no longer any 'shame' in America thanks to Mr. Rogers and Sesame Street propaganda that everything you do is okay."
But others believed the children climbing on the memorial was OK — in fact, that it represented what soldiers fight for.
"I served (in) Vietnam in 69 - 70," Dick Poore wrote. "58 thousand men and women died! And I would say kids will be kids! Even if their parents talked to them they would not know what they were talking about, they think they are in a park! Thats what we went to war for our kids! The saying among veterans you don't know what I am talking unless you been there!"
"They are just kids, and it's just a statue," Stephen Budzash said. "People invest way too much into idols and memorials. Does anything change because there were kids playing on it? Of course not. The memorial is still there, the veterans who lost their lives are still gone, and the 'patriots' are still patriotic. All these people who are saying, 'this generation doesn't teach their kids respect' ... belong to the generation of being professionally offended."
What do you say? Take our poll below and weigh in with comments as well.
The poll has been updated.
—
Follow Dave Urbanski (@DaveVUrbanski) on Twitter