Actress Lena Dunham is taking heat this weekend over a quiz she recently published in the New Yorker. That quiz is titled, "Dog or Jewish Boyfriend? A Quiz." On Friday, the Anti-Defamation League called it "tasteless" and "insensitive." But here's the curious part: TheBlaze emailed that ADL about the exact quiz on Monday, and the response we got was far from labeling it "tasteless." In fact, it was quite the opposite.
The quiz lists 35 statements and asks readers to vote whether they describe a dog or a Jewish boyfriend. "He's crazy for cream cheese," says one. "He doesn't tip" and "He never brings his wallet anywhere," two others say.
TheBlaze's Zach Noble sent a message to the media arm of the ADL asking if the organization was "aware" of the quiz and if it had comment. Just over an hour later, he got a response:
Zach,

Read it through. We don't see any problem with it.

Regards,

The Anti-Defamation League

Media Relations Department
You can see the communication below: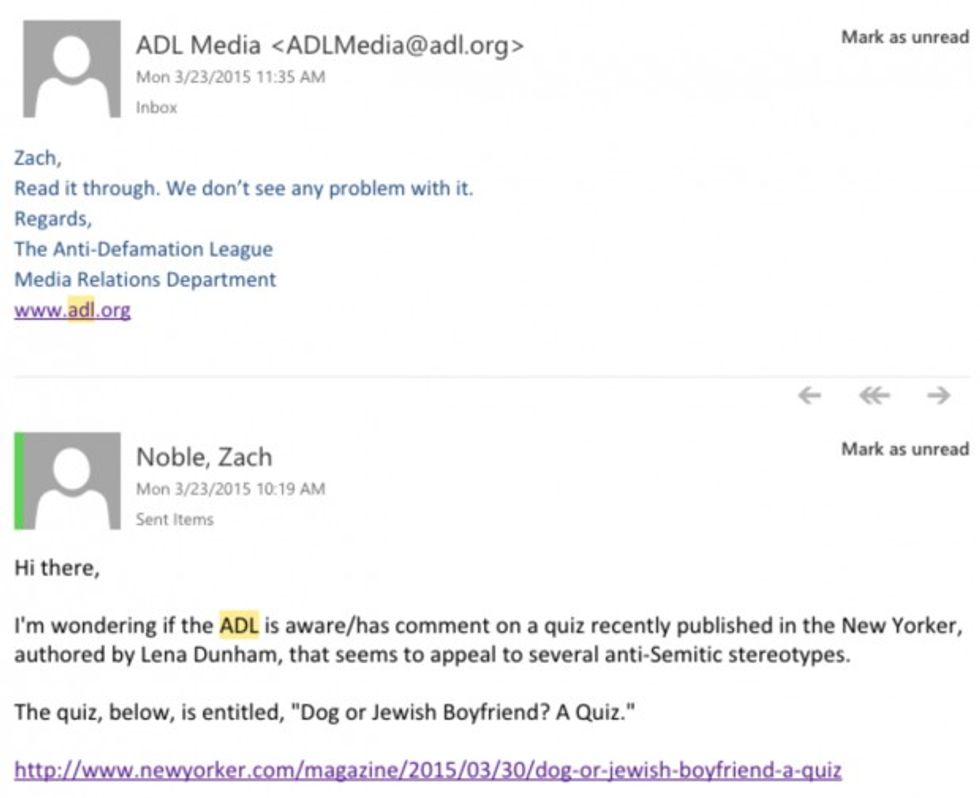 (Source: Zach Noble, TheBlaze)
On Friday, the ADL released a lengthy statement that showed it did have a problem with the article.
"The Anti-Defamation League (ADL) today reacted to an essay in The New Yorker in which the humorist and writer Lena Dunham quizzes herself on whether she should keep her 'Jewish boyfriend' or give him up for her dog," the statement began. "The article, it said, was 'tasteless' and 'plays with offensive stereotypes' about Jews."
ADL National Director Abe Foxman went on to say, "While we understand that humor is its own special brand of expression and always try to give leeway to comedians, we wish that she had chosen another, less insensitive way to publicly reflect on her boyfriend's virtues and vices. We are surprised that the New Yorker chose to print it."
So what changed? We reached out to the ADL again to ask that question. We did not receive an immediate response.