A woman died and her husband was injured after their GPS led through a portion of elevated roadway that closed in 2009.
It happened Saturday morning as Iftikhar Hussai, 64, was driving through a northwest Indiana suburb outside Chicago with his wife, Zohra, 51. At around 10:30, they plunged more than 37 feet off an exit ramp to the demolished Cline Avenue bridge, the Northwest Indiana Times reported.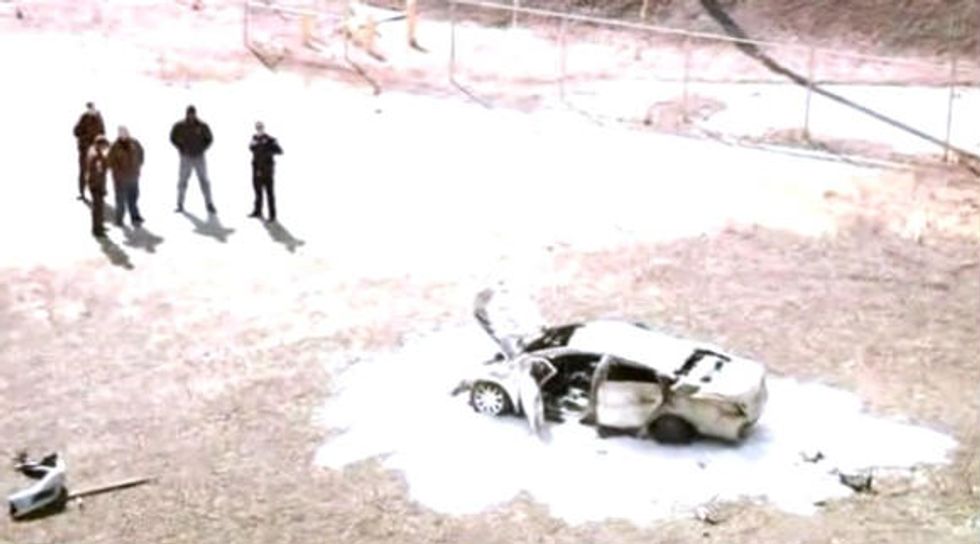 Image source: WGN-TV
Officers said the driver had plenty of warning signs, noting the bridge is marked with barricades, orange barrels, cones and large signs stating "ROAD CLOSED," which the couple drove around.
Police said the couple was from Chicago and likely unfamiliar with the area they were driving through.
The car landed on a piece of property next to the river owned by BP. The 2014 Nissan Sentra burst into flames upon hitting the ground. Iftikhar was able to escape, but Zohra was not.
He was rushed to a nearby hospital and listed in stable condition. Zohra was pronounced dead about an hour after the accident occurred.
The bridge closed in 2009 after years of sustaining tractor-trailers going to and from a nearby steel mill. In 2010, the bridge was condemned by the Indiana Department of Transportation.
(H/T: Northwest Indiana Times)
–
Follow Jon Street (@JonStreet) on Twitter