Israeli Prime Minister Benjamin Netanyahu said Wednesday that the current shape of negotiations over Iran's nuclear program offers Iran a "clear path to the bomb," which he called "unconscionable."
"Yesterday an Iranian general brazenly declared, and I quote: 'Israel's destruction is nonnegotiable,' but evidently giving Iran's murderous regime a clear path to the bomb is negotiable. This is unconscionable," Netanyahu said.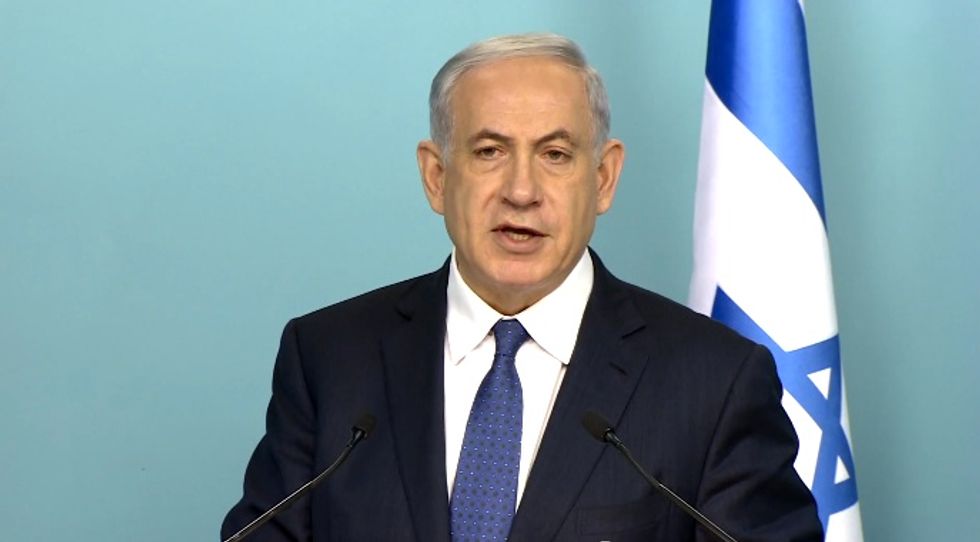 Israeli Prime Minister Benjamin Netanyahu said nuclear negotiations are giving Iran a "clear path to the bomb." (Screenshot: YouTube)
The prime minister was referring to comments attributed to Mohammad Reza Naqdi, commander of the Basij militia of Iran's Revolutionary Guards who said that "erasing Israel off the map" was "nonnegotiable," Israel Radio reported Tuesday.
"Now is the time for the international community to insist on a better deal. A better deal would significantly roll back Iran's nuclear infrastructure," Netanyahu said, adding that a better deal should link concessions on its nuclear program to "a change in Iran's behavior," specifically a demand it stop sponsoring international terrorism and threatening to annihilate Israel.
"That should be nonnegotiable," Netanyahu said. "That's the deal that the world powers must insist upon."
The Israeli leader said claims that Iran's nuclear program is peaceful do not square with Iran's insisting on keeping underground nuclear facilities, advanced centrifuges and a heavy water reactor.
He also pointed to Iran's ongoing development of intercontinental ballistic missiles and the Islamic Republic's refusal to disclose to the International Atomic Energy Agency its past nuclear weaponization efforts.
"Iran is accelerating its campaign of terror, subjugation and conquest throughout the region, most recently in Yemen. The concessions offered to Iran in Lausanne would ensure a bad deal that would endanger Israel, the Middle East and the peace of the world," Netanyahu said.
The U.S.-led negotiations resumed in Lausanne, Switzerland, Wednesday, surpassing the March 31 deadline to reach a preliminary agreement.