Former Hewlett-Packard CEO and potential 2016 Republican presidential candidate Carly Fiorina lashed out at Apple CEO Tim Cook Thursday, calling his opposition to Indiana's new religious freedom law "hypocritical."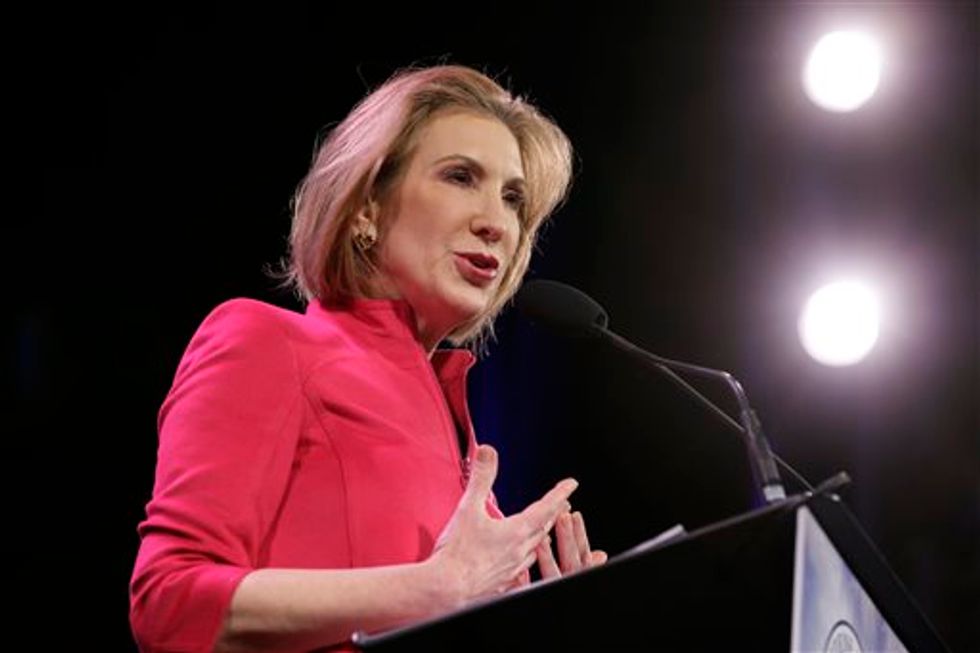 Former technology executive Carly Fiorina speaks during the Freedom Summit, in Des Moines, Iowa. During an interview Sunday, March 29, 2015 on "Fox News Sunday with Chris Wallace," Fiorina said she is more than 90 percent likely to seek the Republican presidential nomination. (AP Photo/Charlie Neibergall, File)
In an interview with the Wall Street Journal, Fiorina pointed to the fact that Cook's own company makes money by operating in countries with laws that oppose both gays and women. Cook himself came out as gay in October 2014.
"When Tim Cook is upset about all the places that he does business because of the way they treat gays and women, he needs to withdraw from 90 percent of the markets that he's in, including China and Saudi Arabia. But I don't hear him being upset about that," Fiorina fumed.
She went on to say that Cook's "level of hypocrisy" is "unfortunate" and that there is "nothing objectionable" about the Indiana law. Fiorina further accused Cook of supporting "narrow special interests."
"I think this is a ginned-up controversy by people who play identity politics that has divided the nation in a way that is really unhelpful," Fiorina told WSJ.
Indiana's Religious Freedom Restoration Act was signed into law March 26 by Republican Gov. Mike Pence, another possible 2016 contender. Supporters of the law say it will help ensure that no one of any faith can be forced to act against their religious conscience. But opponents, like Cook, say it could allow for discrimination against gays.
One day after Pence signed the bill into law, Cook expressed his "disappointment" on Twitter and called on Arkansas Gov. Asa Hutchinson to veto a similar bill. On Thursday, Hutchinson signed a revised version of the original bill more like the federal Religious Freedom Restoration Act that President Bill Clinton signed in 1993.
Apple is open for everyone. We are deeply disappointed in Indiana's new law and calling on Arkansas Gov. to veto the similar #HB1228.

— Tim Cook (@tim_cook) March 27, 2015
(H/T: Wall Street Journal)
–
Follow Jon Street (@JonStreet) on Twitter