INDIANAPOLIS (TheBlaze/AP) - Kentucky's perfect season is over — and it didn't end with them sitting atop college basketball.
The team's first loss of the year came courtesy of Frank Kaminsky and Wisconsin — 71-64 winners over the Wildcats on Saturday in the Final Four.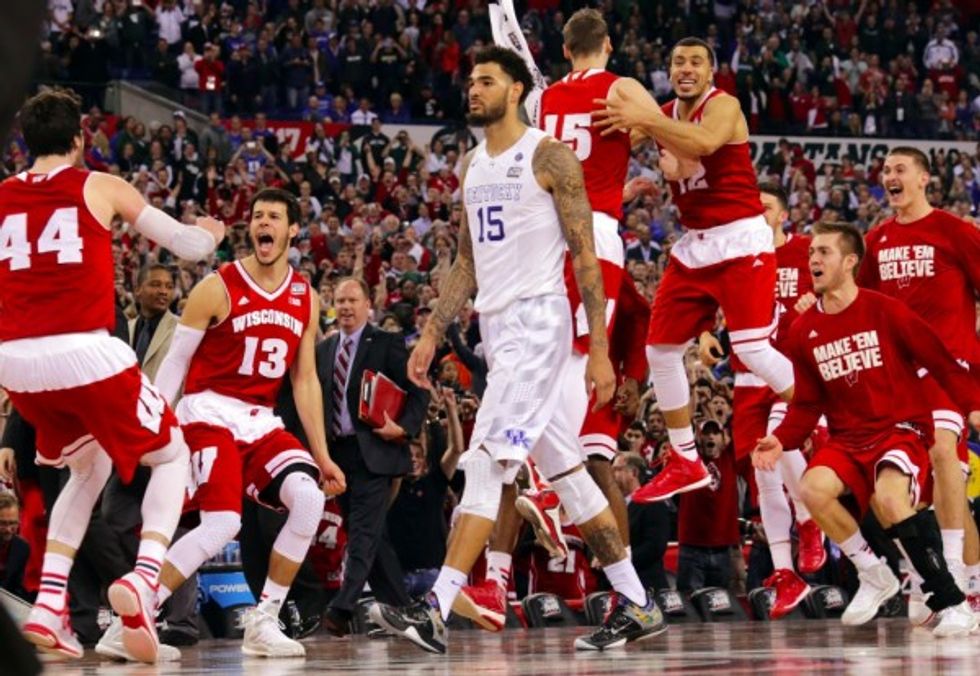 Wisconsin's bench celebrates as Kentucky's Willie Cauley-Stein walks off after the NCAA Final Four tournament college basketball semifinal game Saturday, April 4, 2015, in Indianapolis. Wisconsin won 71-64. (Image source: AP/David J. Phillip)
The Badgers scored eight straight points late to take a four-point lead with 1:06 left, and Kentucky couldn't overcome the deficit this time.
Kaminsky finished with 20 points and 11 rebounds for the Badgers (36-3). He and Bronson Koenig went 7 for 8 from the line over the last 24 seconds to seal the win.
The Badgers, in their first final since 1941, will play Duke for the title Monday.
Kentucky goes home two wins short of closing out the first perfect season since 1975-76 when the Indiana Hoosiers did it.
The Wildcats (38-1) trailed by 3 with 24 seconds left but Karl-Anthony Towns got fouled and only made one free throw and from there, Wisconsin iced it from the line.
Wisconsin beat the previously undefeated Wildcats 71-64 on Saturday night, sending the squad to the NCAA title game against Duke.
—
Follow Dave Urbanski (@DaveVUrbanski) on Twitter