WASHINGTON (TheBlaze/AP) — President Barack Obama is defending a framework nuclear understanding with Iran as a once-in-a-lifetime opportunity to prevent a bomb and bring security to the Middle East. He insists the U.S. will stand in defense of Israel.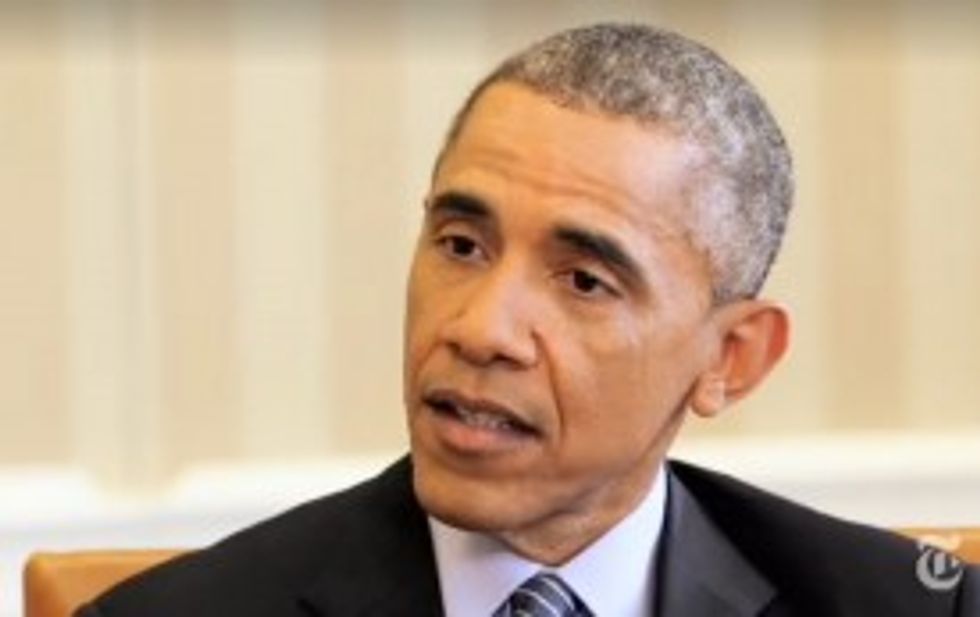 Image source: New York Times
In a weekend interview with the New York Times, Obama argues the risks of a deal are far outweighed by potential gains if it deters Iran's nuclear weapons aspirations.
He says the notion that Iran is undeterrable is "simply not the case."
Obama expressed concern about how talks have strained U.S.-Israel relations, indicating he takes it personally when he's accused of being anti-Israel.
More from the Times:
In the interview, the president struck a conciliatory note after weeks of open tension with Mr. Netanyahu, a clash that has worried even some White House advisers. Mr. Obama said "I respect" Mr. Netanyahu's security argument and agreed that Israelis "have every right to be concerned about Iran," a country that has threatened "to destroy Israel, that has denied the Holocaust, that has expressed venomous anti-Semitic ideas."

He pledged to redouble support for Israeli security. "I would consider it a failure on my part, a fundamental failure of my presidency, if on my watch, or as a consequence of work that I had done, Israel was rendered more vulnerable," he said. Similarly, he said he wanted to use a meeting he has called at Camp David to "formalize" security assistance for Arab allies threatened by Iran.
He says it's been a "hard period" and hopes people understand that having disagreements on certain policies doesn't make him "anti-Israel."
—
Follow Dave Urbanski (@DaveVUrbanski) on Twitter