Former Hewlett-Packard CEO Carly Fiorina said Monday that California's water crisis is the result of "liberal environmentalists" who are "willing to sacrifice other people's lives and livelihoods at the altar of their ideology."
"With different policies over the last 20 years, all of this could be avoided," Fiorina said on Glenn Beck's radio program. "Despite the fact that California has suffered from droughts for millennia, liberal environmentalists have prevented the building of a single new reservoir or a single new water conveyance system over decades during a period in which California's population has doubled."
Fiorina said that as a result, 70 percent of California's rainfall "washes out to sea" year after year.
"How is it possible that we don't hear that story on the news at all?" Beck demanded.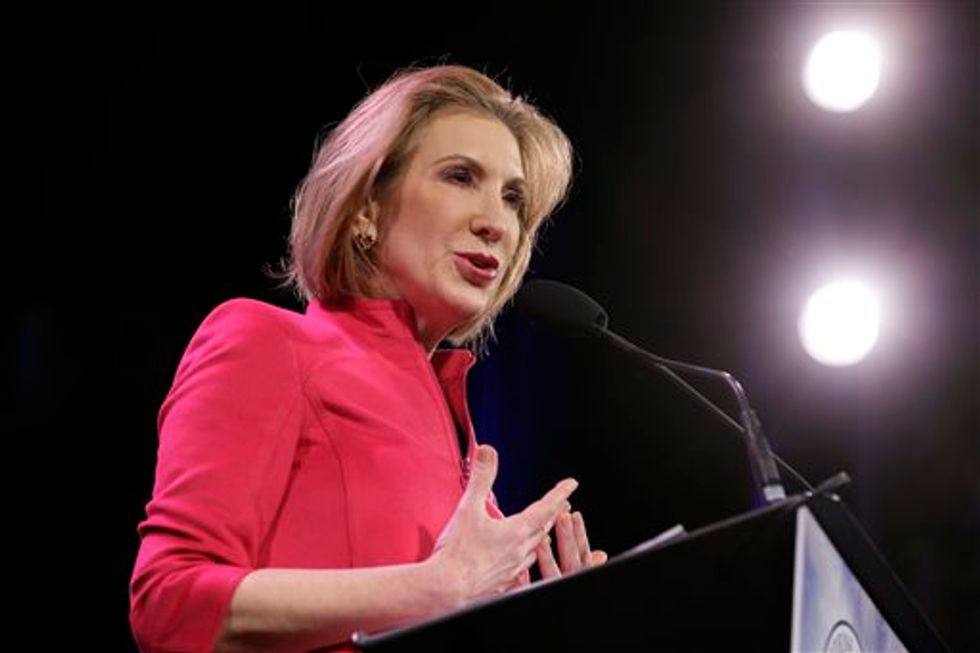 Former technology executive Carly Fiorina speaks during the Freedom Summit, in Des Moines, Iowa. During an interview Sunday, March 29, 2015 on "Fox News Sunday with Chris Wallace," Fiorina said she is more than 90 percent likely to seek the Republican presidential nomination. (AP Photo/Charlie Neibergall, File)
"Isn't that interesting?" Fiorina responded. "It is a man-made disaster. California is a classic case of liberals being willing to sacrifice other people's lives and livelihoods at the altar of their ideology. It is a tragedy."
Fiorina said Congress also has the power to ease some of the water restrictions for farmers, but the restrictions remain in place to protect certain forms of wildlife.
"In California, fish and frogs and flies are really important -- far more important apparently than the 40 percent unemployment rate in certain parts of central valley," Fiorina said. "So the Senate and the president could waive some of those water restrictions. They have been asked to do so, and they have refused to do so."
"Currently, what is the biggest problem in the United States?" Beck asked Fiorina. "If you could only wave a wand and cure one thing, what would it be?"
"Government has grown so huge, so powerful, so costly, so complex, it is literally crushing the life out of this country," Fiorina responded. "It is crushing small and family-owned businesses, which are the economic engine of our nation. It is crushing possibilities out of people's lives by entangling them in a web of dependence from which they cannot escape. The weight, the cost and the power of government are literally crushing the potential of the nation."
"We must, absolutely must, get government under control, which means reducing its size and its power and its complexity in really fundamental ways," Fiorina continued. "And that is why I am seriously considering running for president, and will make a final decision over the next month or so. I have come to the point of view that too many politicians have been captured in this system for too long, and they no longer see what needs to be done."
[mlbvideo content_id=62420283]
The full episode of The Glenn Beck Program, along with many other live-streaming shows and thousands of hours of on-demand content, is available on just about any digital device. Click here to watch every Glenn Beck episode from the past 30 days for just $1!